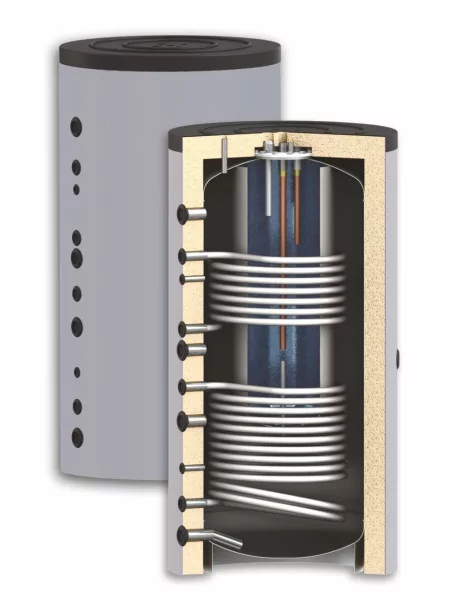 Water heater combi 600/150-1500/300L KSC2 - 2 coils
BURNiT
More info

Combi tank KSC 2 - with two coils.
To produce and accumulate domestic hot water (DHW) and hot water for space-heating system. Tank-in-Tank construction - DHW tank protected with titanium enamel and anode + Buffer tank powering space-heating system.
Allows utilization of up to three external heat sources and an optional electric heating element.



Modifications and sizes, Liters :

600/150, 800/200, 1000/ 220, 1500/300
Product features:
Removable High efficiency insulation with thickness 100 mm and outer casing of PVC with RAL9006 color
Multi-position mounting of temperature sensor
Complex corrosion protection of DHW (domestic hot water) tank realized by means of titanium enamel and two anode protectors
All threads are internal
Easy installation
Heat exchanger coils enables the unit to work with different heat sources
Optional kit for electric heating with nominal power 3kW; 4.5kW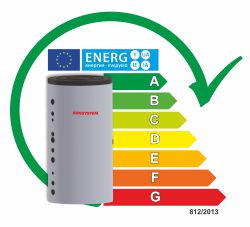 Energy Efficiency Directive 2010/30 /EU,
Regulation 812/2013:
Class Е - capacity from 600 to 1500 Liters.

Warranty : 3 years






1. Aesthetic PVC jacket with color RAL 9006
2. Insulation
3. Water tank of low-carbon steel
4. DHW tank made of low carbon steel coated with titanium enamel (DIN 4753-3)
5. Anode protector (DIN 4753-6)
6. Safety valve, 8 bar
7. Lower heat exchanger coil S1
8. Upper heat exchanger coil S2

Technical specification: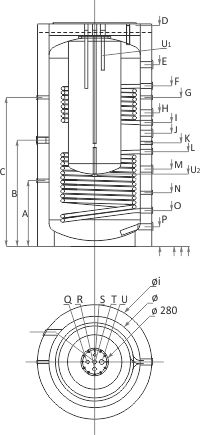 KSC 2

600/150
800/200
1000/220
1500/300
Capacity
L
600
800
1000
1500
Buffer capicity / DHW tank capacity
L
450/150
600/200
780/220
1200/300
Height H
mm
1880
1910
2090
2220
Min. vertical clearance
mm
1970
2020
2185
2375
Diameter D without / with insulation
mm
ø 650 / 850
ø 790 / 990
ø 790 / /990
ø 1000 / 1200
Lower heat exchanger coil S1
Heat exchange surface
m²
1.7
2.9
3.0
3.4
Coil capacity
L
10.5
17.9
18.5
21.0
Lower heat exchanger coil S2
Heat exchange surface
m²
1.0
1.8
2.0
2.4
Coil capacity
L
6.2
11.1
12.3
14.8
Operating pressure / max. coil temperature
bar/°C
16/110
16/110
16/110
16/110
Operating pressure / max. buffer temperature
bar/°C
3/95
3/95
3/95
3/95
Operating pressure / max DWH tank temperature
bar/°C
10/95
10/95
10/95
10/95
Recommended boiler size, connected to the buffer
kW
10-17
15-27
18-33
27-50
Thermometer
Optional
Electric heater (optional)
kW
3/4.5
3/4.5
3/4.5
3/4.5
Weight
kg
184
213
241
428
Sensor sleeve
A, mm G½"
440
570
580
875
Electric heating element (optional)
B, mm G1½"
860
920
1130
1130
Sensor sleeve
C, mm G½"
1440
1290
1500
1700
Air vent sleeve
D, mm G½"
1880
1910
2090
2220
Boiler heat carrier inlet/ sleeve
E, mm G1½"
1550
1573
1742
1808
Upper coil inlet S2
F, mm G1"
1300
1390
1520
1635
Sensor sleeve
G, mm G½"
1150
1290
1450
1525
Boiler heat carrier / sleeve
H, mm G1½"
1305
Upper coil outlet S2
I, mm G1"
1020
1072
1172
1225
Boiler heat carrier / sleeve
J, mm G1½"
910
980
1060
1130
Sleeve
K, mm G½"
975
Lower coil inlet S1
L, mm G1"
800
820
880
895
Boiler heat carrier / sleeve
M, mm G1½"
650
670
730
765
Sensor sleeve
N, mm G½"
490
465
495
520
Lower coil outlet S1
O, mm G1"
280
310
310
375
Boiler heat carrier / sleeve
P, mm G1½"
150
170
170
235
Recirculation
Q, mm 3/4"
1880
1910
2090
2220
DHW tank
Hot water outlet
R, mm G1"
1880
1910
2090
2220
Air vent sleeve
S, mm G½"
1880
1910
2090
2220
Cold water inlet
T, mm G1"
1880
1910
2090
2220
Anode protectors
U1 mm G1¼"
1880
1910
2090
2220
U2 mm G1¼"
850
607
647
881