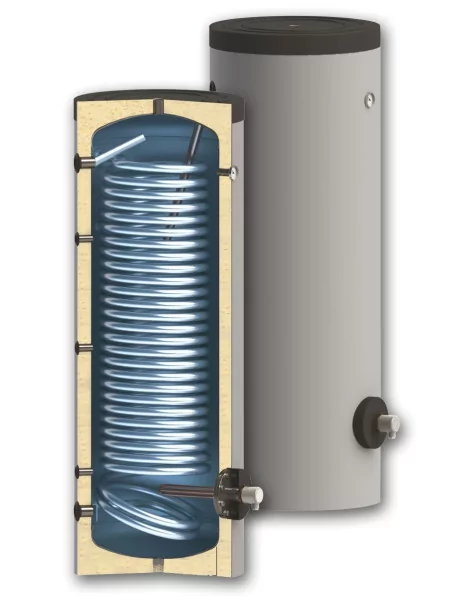 Water heater 300-500L SWP NL with one coil
BURNiT
More info
Modifications and sizes, Liters:

300, 400, 500



Product features:


High efficiency insulation and outer casing of PVC with RAL 9006 color

Multi-position mounting of temperature sensor.

Complex corrosion protection realized by means of titanium enamel and anode protection.

All threads are internal.

Easy installation.

Convenient inspection opening.

High efficiency heat exchanger coil with increased surface.

Optional kit for electric heating with nominal power 3kW, 4.5kW, 6kW or 7.5kW.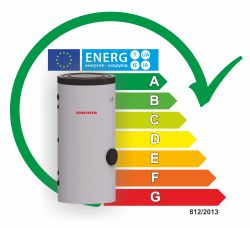 Energy Efficiency Directive 2010/30 /EU, Regulation 812/2013:
Class С capacity from 300 to 500 Liters.

Warranty : 3 years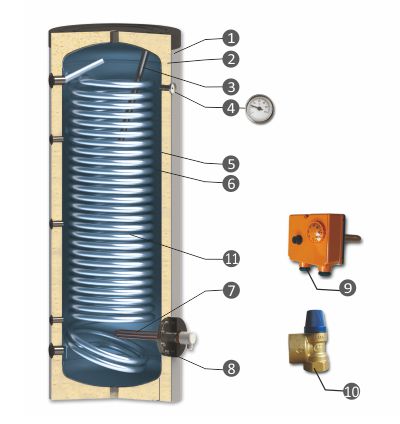 1. Aesthetic PVC jacket with color RAL 9006
2. Highly efficient thermal insulation
3. Anode protector (DIN 4753-6)
4. Thermometer
5. Water tank of low-carbon steel
6. Titanium enamel (DIN 4753-3)
7. Electric heating element
8. Inspection opening with flange cover
9. Thermostat with integrated thermal protection
10. Safety valve, 8 bar
11. High efficiency heat exchanger coil




Technical specifications: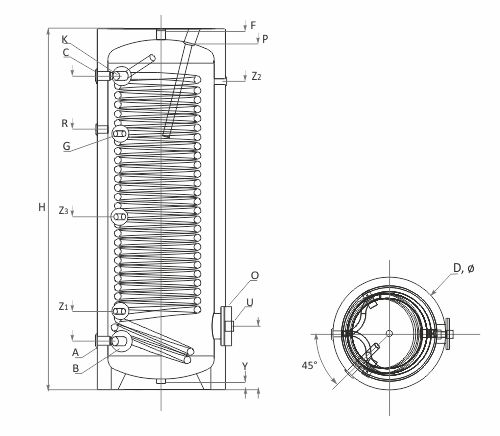 SWP NL

300
400
500
Capacity
L
300
400
500
Height H
mm
1685
1669
1895
Min. vertical clearance
mm
1801
1811
2023
Diameter D
mm
ø 610
ø 710
ø 750
Operating pressure of the water heater
bar
10
10
10
Max temperature of the water heater
°C
95
95
95
Test pressure of tank
bar
15
15
15
Thermometer
option
Electric heating element (optional)
kW
3 - 4.5 - 6
3 - 4.5 - 6 - 7.5
3 - 4.5 - 6 - 7.5
Weight
kg
145
198
236
Heat exchanger coil 1
Heat exchange surface
m²
3.3
3.9
4.6
Coil capacity
L
20.4
23.6
28.3
Prolonged power acc. to DIN 4708; 80/60/45°C
kW
90
115
130
m³/h
2.21
2.7
3.19
Test pressure of the coil
bar
25
25
25
Pressure drop Delta p
mbar
230
379
569
Lower coil outlet S1
A, mm G1"
228
260
250
Cold water inlet
B, mm
G1" 228
G1½" 260
G1½" 250
Lower coil inlet S1
C, mm G1"
1476
1390
1626
Sensor sleeve for thermostat
G, mm G½"
1220
1176
1298
Recirculation
R, mm
G3/4" 1224
G1" 1180
G1"1392
Hot water inlet
K, mm
G1" 1476
G1¼" 1420
G1½" 1643
Air vent sleeve
F, mm G1"
1695
1669
1895
Inspection opening
O ø
110/180
110/180
110/180
O mm
298
345
345
Drain sleeve
Y, mm G1"
30
30
30
Anode protector
P, mm G1¼"
1695
1524
1750
Electric heating element*
U, mm G1½"
298
345
345
Additional sensor sleeve
Z, mm G½"
368
420
433
813
695
966
1204
1100
1372
*Electric heating element mounting option: on inspection opening flange