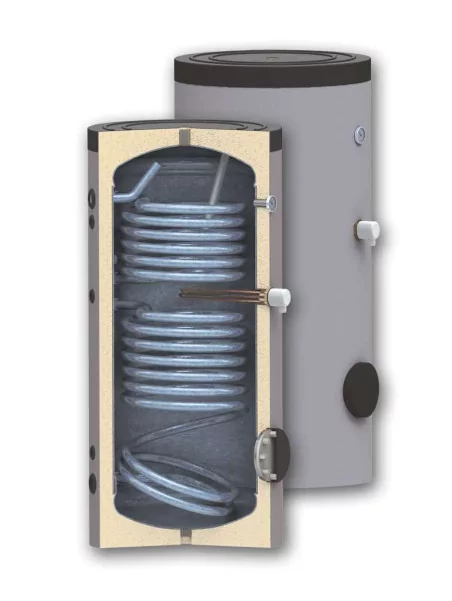 Solar water heater 10 to 1500L SON with two coils
BURNiT
More info
Models available, L:

Vertical models:
150, 200, 300, 400, 500, 750, 1000, 1500
Horizontal models:
300, 500, 1000, 1500.


Benefits:


High efficiency insulation and coating PVC color RAL9006

Installation at multiple positions of the temperature probe

Full protection against corrosion by titanium enamel and the anode protector

The sleeves have an inner thread

Easy installation

Inspection door practice

Available with vertical or horizontal orientation changes

Heat exchanger coils give the possibility to use sources of independent heat - sensors, boiler.

Optional with an electric kit with a rated power of 3 kW, 4.5 kW, 6 kW and 7.5 kW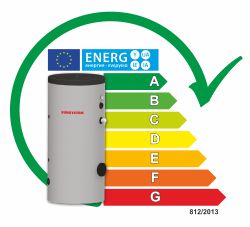 The directive on energy efficiency 2010/30/EU, regulation 812/2013:
Class С for volumes from 150 to 500 litres.
Class Е for volumes from 750 to 1000 litres.

Warranty: 3 years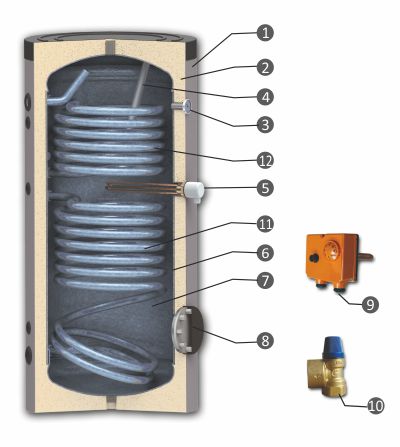 1. aesthetic coating PVC color RAL9006
2. thermal insulation of high efficiency
3 thermometer
4. anode protector (DIN 4753-6)
5. electric heater
6. water, manufactured in mild steel tank
7. titanium enamel (DIN 4753-3)
8 inspection cover with flange
9 thermostat with built-in thermal protection
10 safety valve, 8 bar
11. lower exchanger S1
12. upper exchanger S2




Technical specifications:

Vertical models: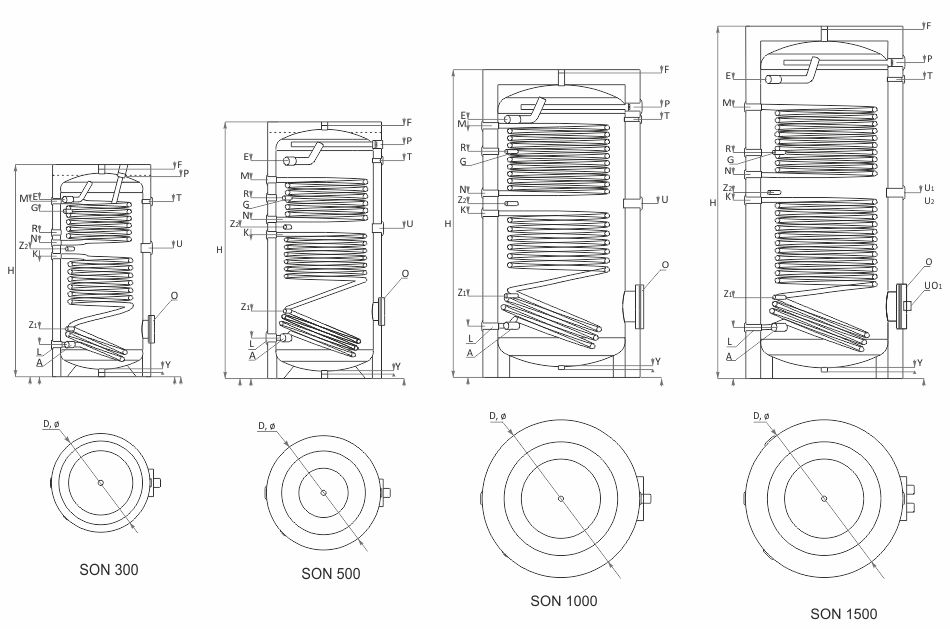 HIS (V)
150
200
300
400
500
750
1000
1500
Capacity
L
150
200
300
400
500
750
1000
1500
Height H
mm
1070
1340
1420
1470
1720
2000
2050
2310
Installation height
mm
1210
1460
1580
1670
1890
2030
2070
2370
Diameter D
mm
o 560
o 560
o 660
o 750
o 750
o 950
o 1050
o 1050
Insulation
50 mm rigid PU
50 mm rigid PU
100 mm PU soft, removable covering
Working pressure of the water heater
bar
10
10
10
10
10
10
10
10
Maximum temperature of the water heater
° C
95
95
95
95
95
95
95
95
Test pressure of the tank
bar
15
15
15
15
15
15
15
15
Electric heater (optional)
kW
3-6
3-6
3-6
3 - 7.5
3 - 7.5
3 - 3.75
3 - 3.75
3x7.5
Weight
kg
65
82
118
160
185
263
315
367
Heat exchanger coil 1

Heat exchanging surface
m²
0.74
0.9
1.2
1.5
1.8
2.1
2.7
3
Ability of the coil
L
4.56
5.55
7.4
9.25
11.10
12.95
16.65
18.50
Continuous power according to DIN 4708; 80/60 / 45 ° C
kW
25
29
53
62
72
80
105
131
m³/h
0.61

0.71

1.30
1.52
1.77
1.97
2.58
3.22
NL - Coefficient of power at 60 ° c.
2.5
4.5
11
13
18
32
42
64
Loss of pressure Delta p
mbar
65
75
120
180
210
210
260
310
Operating pressure of the coil
bar
16
16
16
16
16
16
16
16
Maximum temperature of the coil
° C
110
110
110
110
110
110
110
110
Heat exchanger coil 2

Heat exchanging surface
m²
0.4
0.6
0.9
1
1.2
1.4
1.9
2.5
Ability of the coil
L
2.47
3.7
5.55
6.17
7.4
8.63
11.72
15.42
Continuous power according to DIN 4708; 80/60 / 45 ° C
kW
15
18
21
27
34
50
62
74
m³/h
0.37

0.44

0.52
0.66
0.84
1.23
1.52
1.82
NL - Coefficient of power at 60 ° c.
1
1.5
2
2.2
2.8
10
28
34
Loss of pressure Delta p
mbar
48
55
70
80
90
150
210
260
Operating pressure of the coil
bar
16
16
16
16
16
16
16
16
Maximum temperature of the coil
° C
110
110
110
110
110
110
110
110
Output of the lower coil S1
L, mm G1 "
202
202
215
270
270
300
320
320
Cold water inlet
A, mm
G1 "202
G1 "202
G1 "215
G1¼ "270
G1½ "270
G1½ "300
G1½ "320
2xG1½ "320
Thermostat housing
G, mm G½ "
822
892
1897
950
1168
1435
1487
1487
Entrance to the lower coil S1
K, mm G1 "
592
692
805
850
960
970
1080
1180
Recirculation
R, mm
G3/4 "450
G3/4 "500
G3/4 "663
G1 "673
G1 "831
G1 "1405
G1 "1497
G1 "1497
Output of the upper coil S2
N, mm G1 "
674
812
894
952
1062
1160
1220
1350
Entrance to the upper coil S2
M, mm G1 "
874
1112
1170
1210
1350
1560
1660
1790
Hot water outlet
E, mm
G1 "868
G1 "1070
G1 "1168
G1¼ "1182
G1½ "1453
G1½ "1630
G1½ "1700
2xG1½ "1975
Exhaust air
F, mm G1 "
1070
1340
1410
1480
1710
1950
2020
2320
Inspection door
O o
o 110/180
o 110/180
o 110/180
o 110/180
o 110/180
o 200/280
o 200/280
o 200/280
O mm
309
309
320
450
450
450
460
460
Drain
Y, mm G1 "
30
30
30
30
30
30
30
40
Thermometer
T, mm G½ "
892
1138
1170
1152
1453
1630
1700
2089
Anode protector
P, G1¼ mm "
1070
1340
1410
1079
1340
1435
1570
1570, 1650
Connections electric resistances:
In the middle of the ECS ball
U, mm G1½ "
645
752
852
901
1011
1040
1140
2 x 1220
On the flange of revision
UO, mm G1½ "
1 x
1 x
Additional probe housing
Z, mm G½ "
352
302
320
450
450
535
520
520
631
752
852
901
1011
1040
1140
1230
* Optional electric heater for flange mounting


Horizontal models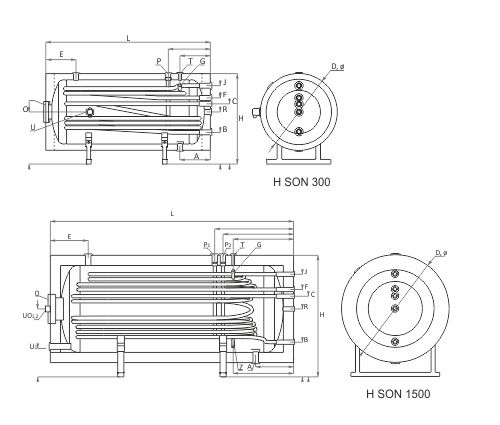 (H) SOUND

300

500
1000
1500
Capacity
L
300
500
1000
1500
Height H
mm
790
890
1190
1190
Length L
mm
1410
1710
2080
2380
Diameter D
mm
o 660
o 750
o 1050
o 1050
Insulation
50mm rigid PU
100mm PU soft, removable covering
Working pressure of the water heater
bar
15
15
15
15
Maximum temperature of the water heater
° C
95
95
95
95
Test pressure of the tank
bar
25
25
25
25
Electric heater (optional)
kW
3-6
3 - 7.5
2x7.5
3x7.5
Weight
kg
118
185
315
367
Heat exchange coil 1

Heat exchanging surface
m²
1.2
1.8
2.7
3
Ability of the coil
L
7.40
11.10
16.65
18.50
Continuous power according to DIN 4708; 80/60/45 ° C
kW
53
72
105
131
m³/h
1.3
1.77
2.58
3.22
NL - coefficient of power at 60 ° c.
11
18
42
64
Loss of pressure Delta p
mbar
120
210
260
310
Operating pressure of the coil
bar
16
16
16
16
Maximum temperature of the coil
° C
110
110
110
110
Heat exchange coil 2

Heat exchanging surface
m²
0.9
1.2
1.9
2.5
Ability of the coil
L
5.55
7.4
11.72
15.42
Continuous power according to DIN 4708; 80/60/45 ° C
kW
21
34
62
74
m³/h
0.52
0.84
1.52
1.82
NL - coefficient of power at 60 ° c.
2
2.8
28
34
Loss of pressure Delta p
mbar
70
90
210
260
Operating pressure of the coil
bar
16
16
16
16
Maximum temperature of the coil
° C
110
110
110
110
Cold water inlet
A, mm
G1 "260
G1½ "270
G½ "360
G1½ "360
Thermostat housing
G, mm G½ "
260
270
360
360
Output of the lower coil S1
B, mm G1 "
290
325
340
340
Recirculation
R, mm G1 "
465
515
665
665
Entrance to the lower coil S1
C, mm G1 "
550
585
790
790
Output of the upper coil S2
F, mm G1 "
583
655
855
855
Entrance to the upper coil S2
J, mm G1 "
690
785
1005
1005
Hot water outlet
E, mm
G1 "260
G1½ "270
G1½ "320
G1½ "320
Inspection door
O o
110 / 180
110 / 180
200 / 280
200 / 280
mm
465
515
665
665
Thermometer
T, mm G½ "
260
270
360
580
Anode protector
P, G1¼ mm "
360
370
460
690, 770
Electric heater *.
U, mm G1½ "
465
515
6 x 265
280; 2 x 665
Additional probe housing
Z, mm G½ "
360
580
* Optional electric heater for flange mounting