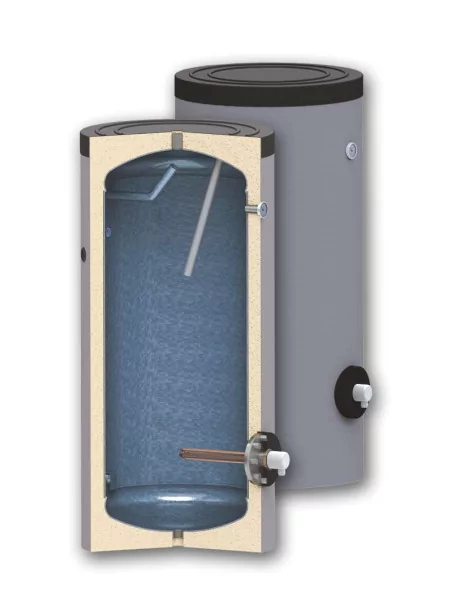 Solar water heater 150 to 1500L SEL without coil
BURNiT
More info
Modifications and sizes, Liters:

Vertical models:
150, 200, 300, 400, 500, 750, 1000, 1500.


Horizontal models:
200, 300, 500, 1000, 1500.


Product features:


High efficiency insulation and outer casing of PVC with RAL 9006 color.

Multi-position mounting of temperature sensor.

Complex corrosion protection realized by means of titanium enamel and anode protection.

All threads are internal.

Easy installation.

Convenient inspection opening.

Available modifications with vertical and horizontal orientation.

Optional kit for electric heating with nominal power 3kW, 4.5kW, 6kW or 7.5kW.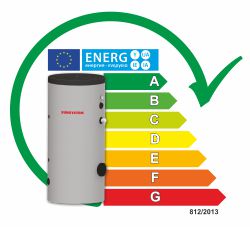 Energy Efficiency Directive 2010/30 /EU, Regulation 812/2013:
Class С capacity from 150 to 500 Liters;
Class Е capacity from 750 to 1000 Liters.

Warranty : 3 years



1. Aesthetic PVC jacket with color RAL 9006
2. Highly efficient thermal insulation
3. Thermometer
4. Anode protector (DIN 4753-6)
5. Electric heating element
6. Water tank of low-carbon steel
7. Titanium enamel (DIN 4753-3)
8. Inspection opening with flange cover
9. Thermostat with integrated thermal protection
10. Safety valve, 8 bar



Technical specifications:


Vertical models: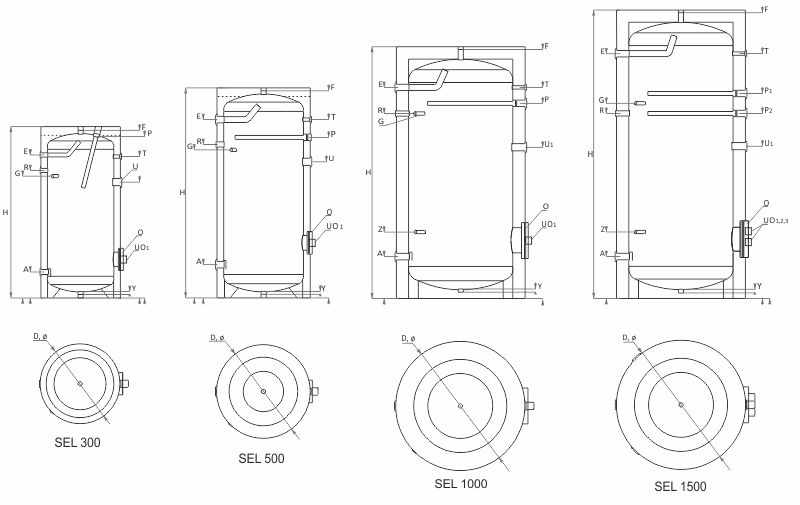 SEL (V)
150
200
300
400
500
750
1000
1500
Capacity
L
150
200
300
400
500
750
1000
1500
Height H
mm
1080
1350
1420
1470
1720
2010
2060
2310
Min. vertical clearance
mm
1210
1460
1580
1670
1890
2030
2080
2370
Diameter D
mm
ø 560
ø 560
ø 660
ø 750
ø 750
ø 950
ø 1050
ø 1050
Insulation
50 mm rigid PU
50 mm rigid PU
100 mm soft PU, removable
Operating pressure of the water heater
bar
10
10
10
10
10
10
10
10
Max temperature of the water heater
°C
95
95
95
95
95
95
95
95
Test pressure of tank
bar
15
15
15
15
15
15
15
15
Electric heating element (optional)
kW
3-6
3-6
3-6
3-6
3-6
3-6
3-6
3-6
Weight
kg
50
68
86
123
140
210
245
284
Cold water inlet
A, mm
G1" 202
G1" 202
G1" 215
G1¼" 270
G1½" 270
G1½" 300
G1½" 320
2xG1½" 320
Sensor sleeve for thermostat
G, mm G½"
788
900
1008
950
1208
1435
1487
1487
Recirculation
R, mm
G3/4" 788
G3/4" 987
G3/4" 1055
G1" 1005
G1" 1250
G1" 1405
G1" 1487
G1" 1487
Hot water outlet
E, mm
G1" 895
G1" 1112
G1" 1182
G1¼" 1204
G1½" 1453
G1½" 1630
G1½" 1700
2xG1½" 1975
Air vent sleeve
F, mm G1"
1070
1340
1410
1480
1710
1950
2020
2320
Inspection opening
O ø
ø 110/180
ø 110/180
ø 110/180
ø 110/180
ø 110/180
ø 200/280
ø 200/280
ø 200/280
O mm
309
309
320
450
450
450
460
460
Drain sleeve
Y, mm G1"
20
20
20
20
20
20
40
40
Thermometer
T, mm G½"
895
1138
1170
1204
1453
1630
1700
1975
Anode protector
P, mm G1¼"
1070
1340
1410
1079
1340
1435
1570
1570, 1650
Sleeve for electric element* :
On water tank body
U, mm G1½"
780
850
950
900
1130
1040
1155
1220
On inspection opening flange
UO, mm G1½"
1x
1x
1x
1x
1x
1x
2x
3x
Additional sensor sleeve
Z, mm G½"
535
520
520

*Electric heating element mounting option: on inspection opening flange


Horizontal models: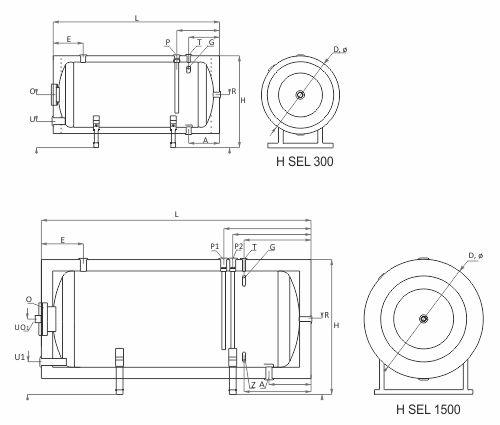 SEL (H)

200
300

500
1000
1500
Capacity
L
200
300
500
1000
1500
Height H
mm
695
790
890
1190
1190
Length L
mm
1340
1410
1710
2080
2380
Diameter D
mm
ø 560
ø 660
ø 750
ø 1050
ø 1050
Insulation
50mm rigid PU
50mm rigid PU
100mm soft PU, removable
Operating pressure of the water heater
bar
10
10
10
10
10
Max temperature of the water heater
°C
95
95
95
95
95
Test pressure of tank
bar
15
15
15
15
15
Electric heating element (optional)
kW
3-6
3-6
3-6
3-6
3-6
Weight
kg
68
86
140
245
284
Cold water inlet
A, mm
G1" 220
G1" 260
G1½" 270
G½" 370
G1½" 370
Sensor sleeve for thermostat
G, mm G½"
220
260
270
370
590
Recirculation
R, mm G1"
420
465
515
665
665
Hot water outlet
E, mm
G1" 220
G1" 260
G1½" 270
G1½" 370
G1½" 370
Inspection opening
O ø
110 / 180
110 / 180
110 / 180
200 / 280
200 / 280
mm
420
465
515
665
665
Thermometer
T, mm G½"
220
260
270
370
590
Anode protector
P, mm G1¼"
320
360
370
470
680, 760
Electric heating element*
U, mm G1½"
195
238
245
2x280
2x280; 665
Additional sensor sleeve
Z, mm G½"
370
580
*Electric heating element mounting option: on inspection opening flange