Pellet boiler BURNiT Pell EASY 20kW
BURNiT
More info
Ecological and highly-efficient pellet boiler for heating of small to medium sized spaces. Designed to burn wood-pellets.

Compact and easy to install and maintenance.

Microprocessor controller. Integrated pellet burner, fuel hopper for wood-pellets, circulating pump for central heating and expansion vessel. Manual cleaning system of fume exhaust tubes.

Tested and approved according to EN 303-5, class 5.
Boiler warranty : 2 years
---
Product Features
Microprocessor controller. Functions:

Automatic ignition and pellet feed;

Self-cleaning function of burner;

Controls the integrated pump for heating system;

Ability to control the pump for domestic hot water (DHW);

Controls by room thermostat;

Contols boiler operations by buffer tank temperature; Exhaust gas temperature sensor.

Temperature sensor to monitor boiler temperature.

Temperature sensor to monitor water heater temperature.

Temperature sensor to monitor buffer tank temperature.

Fume exhaust fan of the boiler.

Water mantle embraces the combustion chamber in full to utilize the emitted heat most efficiently.

Manual cleaning system of fume exhaust pipes.

Pellet burner is built into the boiler. Easy to maintain..

Built-in fuel hopper for wood-pellets.

Integrated circulation pump for central heating.

Integrated expansion vessel.

Eyepiece for viewing the combustion process.
---
Safety devices
STB thermostat would extinguish the boiler and stop fuel feeding in case of abnormal temperature increase.

The design of fuel feed system prevents backfire entry from burner into the pellet hopper.

Thermostatic protection (80°С) - into the fuel feed system, prevents backfire.

Fuse 10А;

In case of power interruption, all parameter settings are stored in controller memory.
---
Optional equipment
WiFi module. Operated by mobile application for Android or iOS.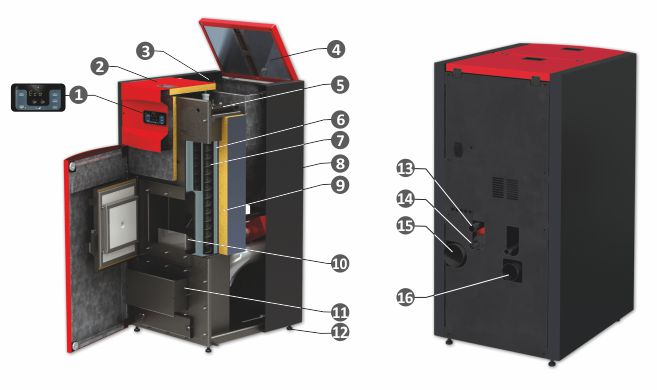 1. Microprocessor controller
2. Inspection hatch
3. Fuel hopper hatch
4. Top loading hatch of fuel hopper
5. Manual cleaning system of
fume exhaust pipes.
6. Water mantle (jacket)
7. Fume exhaust tubes with turbulators
8. Housing
9. High efficiency thermal insulation
10. Pellet burner
11. Ash-and-soot container
12. Levelling feet
13. Hot water outlet
14. Cold water inlet
15. Flue
16. Incoming air pipe



---
Technical characteristics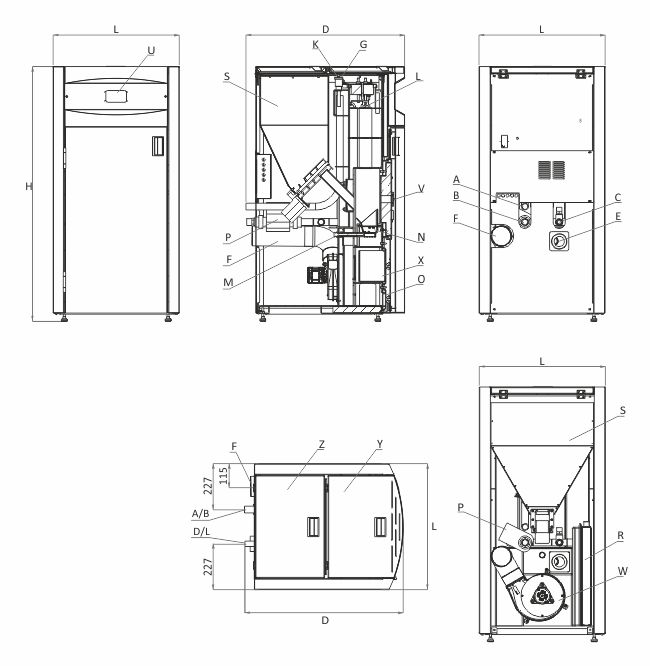 PELL EASY 20
Nominal heat output
kW
18
Height H
mm
1260 +-15 (ajustable)
Width L / Depth D
mm
625/790
Water mantle volume
L
35
Comustion chamber volume
L
12
Required chimney draught
Pa/mbar
8 / 0.08
Insulation - boiler body
100mm high-efficiency thermal wool lined with aluminium fool
Insulation - door
50 mm de vermiculite
Average power consumption
W
49/23
Power consumption of circulation pump
W
5÷ 22
Electric power supply
V/Hz
230/50
Recommended fuel
Wood-pellets, ø 6÷8 mm /EN 14961-2:2011/
Exhaust gas temperature (operation mode)
°C
100÷120
Mass flow of exhaust gases, Minimum ÷ maximum heat output
kg/s
0,0045 ÷ 0,01
Operating temperature range
°C
65-85
Min. return water temperature
°C
60
Operating pressure
bar
3
Weight
kg
252
Capacity of the fuel hopper FH 500
L
75
Hot water outlet
A, mm
R1"/580
Cold water inlet
B, mm
R1"/500
Sleeve for drain / safety valve
C, mm
R¾"/500
Incoming air pipe
E, mm
Ø76/400
Flue
F, Ø/mm
Ø100/420
Air vent
G
V
Sleeve for sensor
K
V
Manual cleaning system
L
V
Lighter
M
V
Pellet burner
N
V
Inspection opening
O, mm
65/290
Circulation pump
P
V
Expansion vessel
R, litres
6
Fuel hopper for wood-pellets
S
V
Microprocessor controller
U
V
Eyepiece for viewing the combustion process
V
V
Fume exhaust fan the boiler
W
V
Ash-and-soot container
X
V
Inspection hatch
Y
V
Top loading hatch of fuel hopper
Z
V
For product measurements, they should be read as follows:
Cold water inlet
A, mm
R1¼ "/ 450
Y, mmm
G½ "/ 232
A is shown in the previous diagram. "R1¼" and "G½" are the measure in inches of the opening. "R" is male and "G" is female. The measurements in inches indicate the distance between the floor and the opening.
Data sheets and documentation