Display all pictures
Solid fuel boiler 450kW (biomass) BURNiT WBS AC Magna
BURNiT
More info
WBS AC Magna s equipped with intelligent controller and two fans with safety flaps to manage the incoming air.
Owing to its smart design WBS AC Magna is easy to transport and install in spite of its dimensions. The device is available in 450kW.
Tested and approved according to EN 303-5.
Boiler warranty : 2 years
---
Product Features
Electronic control unit controls the combustion by modulating the fan speed. Optional control of circulation pumps for central heating and domestic hot water (DHW).

Maximum operating pressure of 4 bar.

Capable to feed a large-scale heating system.

Combustion chamber with large heat exchanging surface and low chamber resistance.

The combustion chamber features three-pass flue-gas flow. The mantle fully covers the flue exhaust tubes for optimal heat transfer.

Large firebox door ensures easy loading even with bigger logs (up to 1.5 meter long).

Convenient inspection door in the upper part of the boiler ensures easy cleaning of the flue exhaust tubes.

Eyepiece for viewing the combustion process.

Demountable housing;

Opening on the loading door for fitting of pellet burner
---
Safety devices
Pressure relief valve 4 bar not incl. in the set;

Connection to a safety line in case of overheating

STB thermostat;

Valves fitted on both fans.

Chimney draught flap;
---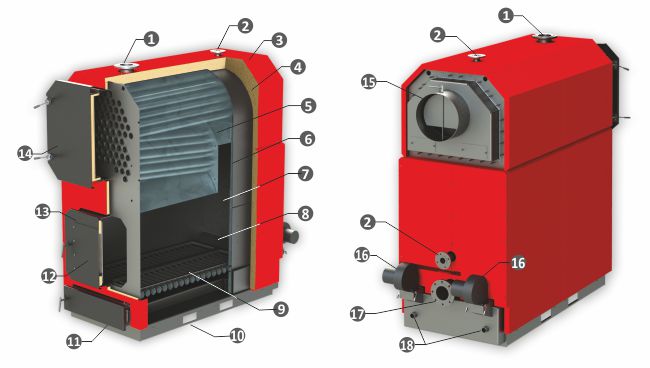 1. Hot water outlet
2. Safety line
3. Housing
4. High efficiency thermal insulation
5. Fume exhaust tubes
6. Water mantle (jacket)
7. Three-pass flue gas flow
8. Combustion chamber
9. Metal grate
10. Transportation openings
11. Door for ash removal
12.Opening on the loading door for fitting of pellet burner
13. Loading door
14. Inspection door
15. Flue
16. Cold water inlet
17. Air-feed fans
18. Drain

---
Technical characteristics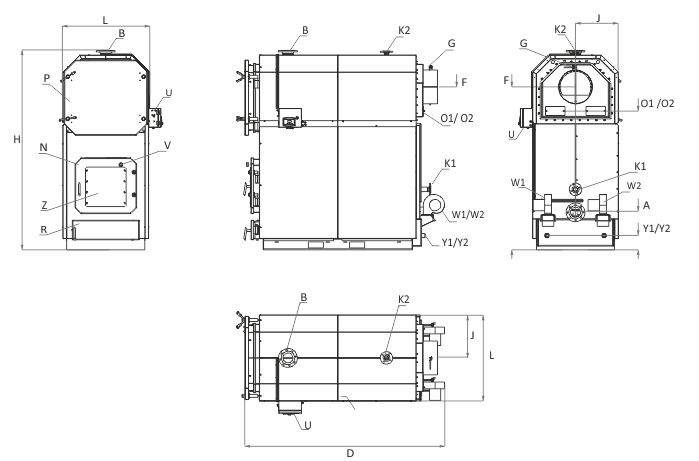 WBS Magna Active

450
Nominal heat output
kW
450
Height H
mm
2590
Width L / Depth D
mm
1140 x 2600
Water mantle volume
L
1700
Combustion chamber volume
L
1000
Required chimney draught
Pa/mbar
50/0.50
Insulation boiler
High-efficiency thermal wool
Insulation doors
High-efficiency thermal wool
Recommended fuel
Wood, humidity 20%, wood briquettes, wood + coals, wood + fruit pits / boken nuts
Max. length of firewood logs
m
1.5
Burning time partial / full load
h
5.5 / 3.5
Exhaust gas temperature (operation mode)
°C
150-180
Operating temperature range
°C
65-85
Température min. du retour d'eau
°C
60
Operating pressure
bar
4
Weight
kg
3100
Cold water inlet
A, mm
DN 125/500
Hot water outlet
B,mm
DN 125/1700
Safety line
K1, mm
DN 50/800
K2, mm
DN 50/1700
Flue
F, ø / mm
ø450 / 2170
J, mm
570
Flue cleaning opening
01,mm
1850
02, mm
1850
Chimney draught flap
G
Yes
Loading door
N, mm
650 x 700
Inspection door
P, mm
1100 x 1000
Door for ash removal
R, mm
890 x 260
Air feed fan
W1, mm
1450
W2, mm
1450
Drain
Y1, mm
G1"/150
Y2, mm
G1"/150
Eyepiece for viewing the combustion process
V
Yes
Burner flange (option)
Z
Yes
Electric control box with controller
U
Yes
For product measurements, they should be read as follows:
Cold water inlet
A, mm
R1¼ "/ 450
Y, mmm
G½ "/ 232
A is shown in the previous diagram. "R1¼" and "G½" are the measure in inches of the opening. "R" is male and "G" is female. The measurements in inches indicate the distance between the floor and the opening.
---
Recommended clearances between the boiler and walls
---
Relation between wood heating value and water content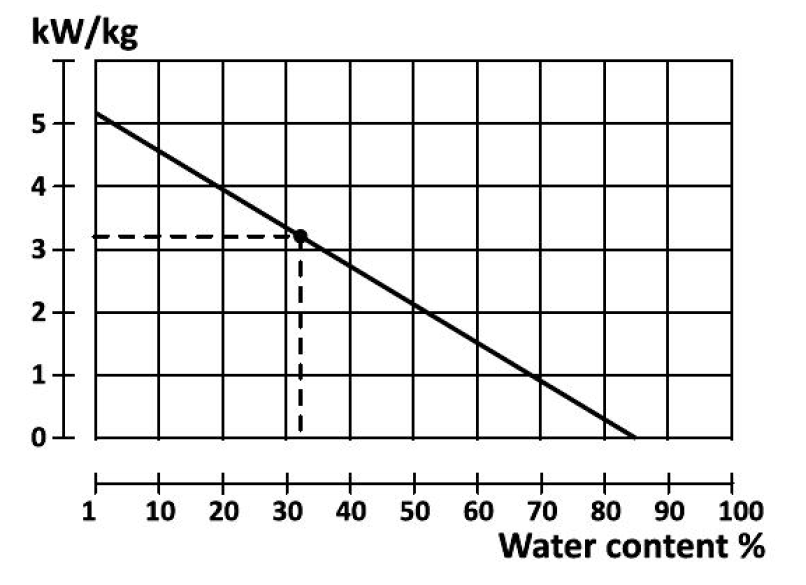 ---
Overall dimension of boiler body and housing, model WBS-A 450 Magna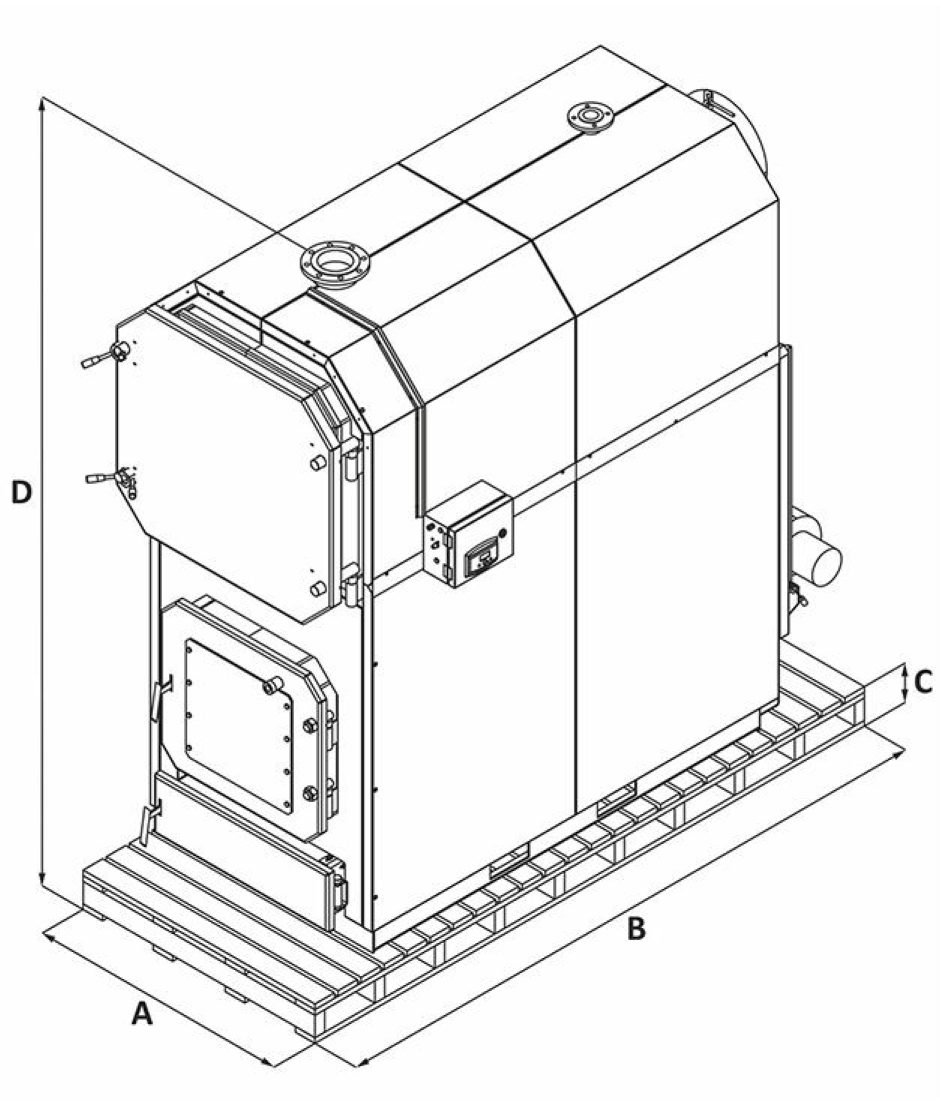 A : 1190mm
B : 2820mm
C : 175mm
D : 2830mm
Weight : 3100kg
---
Connecting the boiler to the mains power supply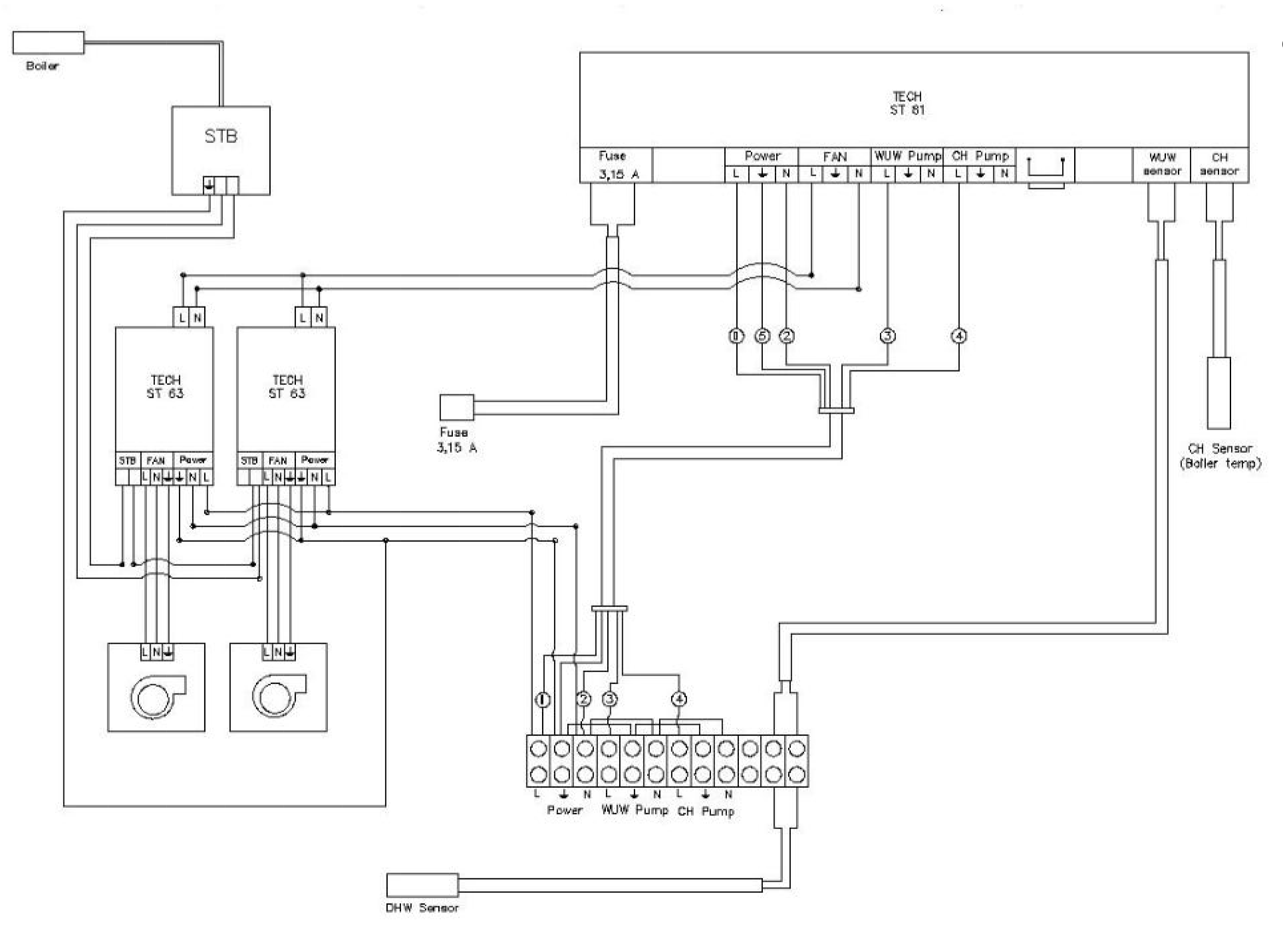 ---
Connection of BURNiT WBS-A Magna boiler in a closed system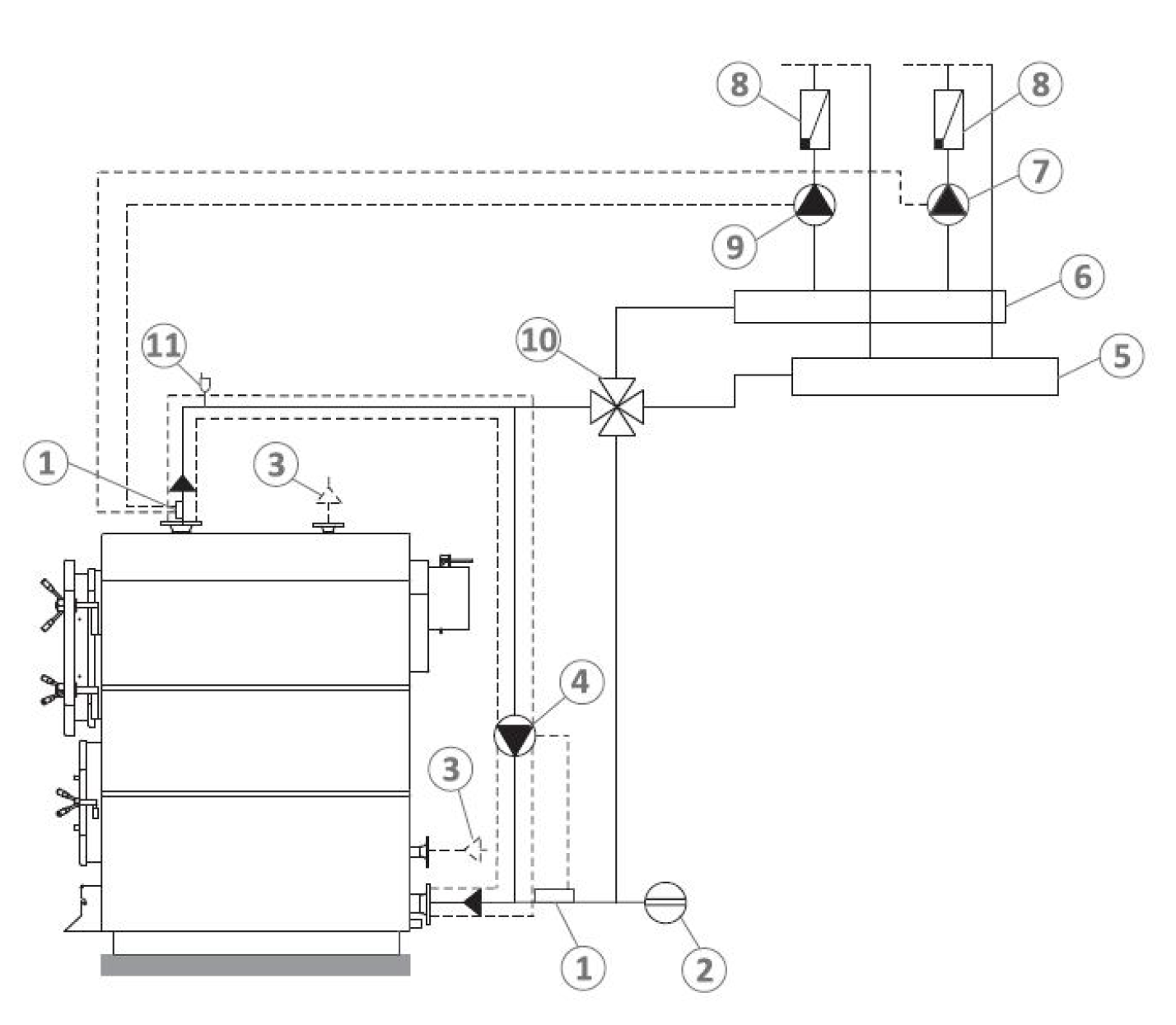 1 - Thermostat
2 - Expansion vessel
3 - Safety valve
4 - Circulation pump
5 - Cold water collector
6 - Hot water collector
7 - Heating circuit 2 pump
8 - Return valve
9 - Heating circuit 1 pump
10 - Mixer valve
11 - Air vent
---
Connection of BURNiT WBS-A Magna boiler in an open system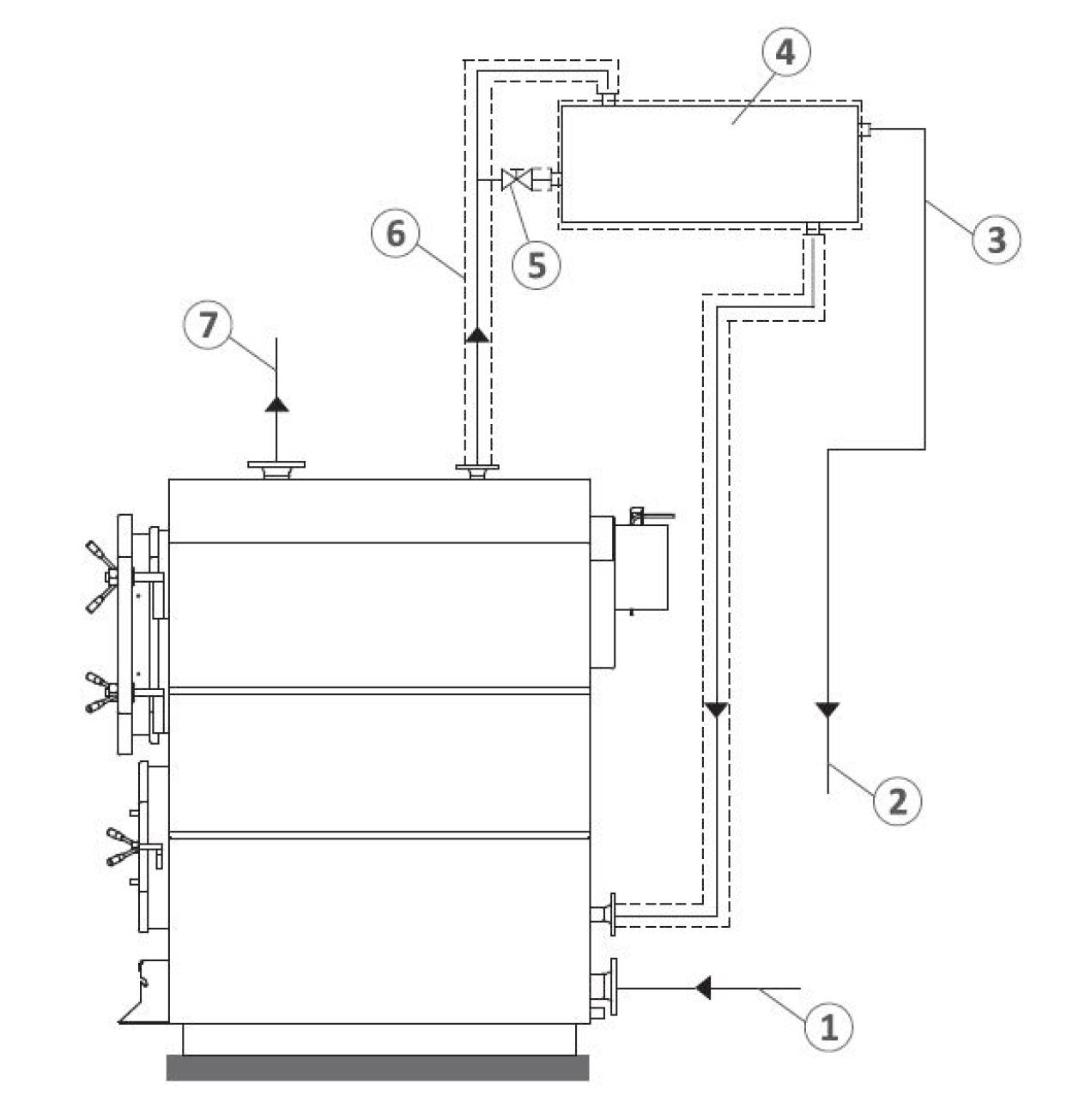 1 - Cold water inlet
2 - Drainage
3 - Air vent line
4 - Expansion vessel (open)
5 - Return valve
6 - Insulation
7 - Hot water outlet
Data sheets and documentation