Wood fired boiler 20kW to 40kW (biomass) BURNiT PyroBurn Alpha Plus
Display all pictures
A highly-efficient wood gasifying boiler, designed for economical and ecological heating of medium to large-sized premises (20, 30 or 40kW). The PB Alpha PLUS boiler provides intuitive operation interface, cleaning system, heat output regulation as well as sophisticated safety systems.




More info
By buying this product you can collect up to 358 loyalty points. Your cart will total 358 points that can be converted into a voucher of 107,40 €.
More info

Owing to the wood gasification technology employed the PyroBurn Alpha boiler reaches efficiency of above 90% and saves fuel. The water mantle embraces the combustion chamber in full to utilize the emitted heat most efficiently.
Built-in high temperature ceramic plates ensure uniform heat distribution and protection of the water mantle from the extreme heat produced by wood gasification (up to 1200°C). A complex of safety devices ensure its safe operation.

Tested and approved according to EN 303-5, class 5.
Boiler warranty : 2 years
Wood gasification.
The wood in the primary burning chamber is fired in a low-oxygen environment reaching about 580°С. It starts degrading to a combustible gas of carbon compounds which is directed to the orifice of the secondary combustion chamber. There, the gas is enriched with secondary air and ignites to reach temperature of up to 1200°C.
Before leaving the boiler body, the gas passes through a flue with built-in spiral turbulators where it gives away its heat to the water mantle and cools down to 150°С. Thanks to the wood gasification principle the fuel is most efficiently consumed with minimum carbon emissions and ash.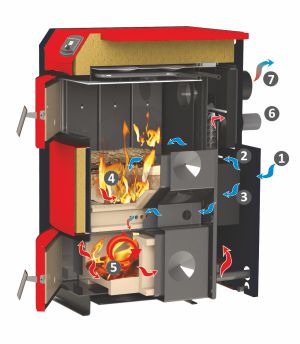 1.Incoming air;
2.Primary air
3.Secondary air;
4. Ignition;
5. Pyrolysis combustion;
6. Fume exhaust fan;
7. Flue



Product Features:


The built-in proportional-integral derivative controller monitors the burning process and controls the fan speed to achieve optimal yield and economy of fuel;

Fume exhaust fan;

Cleaning system (manual);

Fume extraction device on the upper combustion chamber keeps smoke from polluting the boiler room during reloading;

Large firebox door ensures easy loading even with bigger logs (length of logs up to 50 cm);

Combustion chamber protected on all sides by ceramic plates;

Eyepiece for viewing the combustion process;




Safety devices:


Upon reaching 95°С the controller turns the fan off and activates the pumps for domestic hot water and heating system. An independent STB thermostat shuts down the fan upon reaching 99°С.

Safety heat evacuator;

Pressure relief valve 3 bar;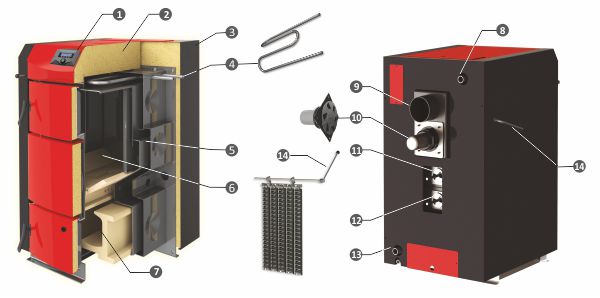 1. Controller
2. Housing
3. High efficiency thermal insulation
4. Safety heat evacuator
5. Water mantle (jacket)
6. Wood-loading chamber
7. Pyrolysis combustion chamber
8. Hot water outlet
9. Flue
10. Fume exhaust fan
11. Primary air flap
12. Secondary air flap
13. Cold water inlet
14. Cleaning system (manual)







Technical specifications:

PyroBurn Alpha Plus

20
30
40
Nominal heat output / Min-Max heat output
kW
18.9 / 15-20
28.9 / 27-32
37.7 / 35-40
Mass flow of exhaust gases, Max. heat output
kg/s
0.017
0.021
0.028
Height H
mm
1255
1290
1430
Width L x Depth D
mm
679 x 930
765 x 1090
765 x 1160
Water mantle volume
L
52
68
75
Combustion chamber volume
L
76
132
162
Required chimney draught
Pa/mbar
10-20 /0.10-0.20
10-20 /0.10-0.20
10-20 /0.10-0.20
Insulation boiler
High-efficiency thermal wool
Insulation chamber
Ceramic plates
Insulation doors
High-efficiency thermal wool + ceramic plates
Average power consumption
W
100
100
100
Electric power supply
V/Hz
230/50
230/50
230/50
Recommended fuel
Wood, humidity 15%, wood briquettes
Burning time partial / full load
h
min. 2h
min. 2h
min. 2h
Fuel consumption for heating season
m²
14.5 / 18
20 / 25
32 /40
Loading door size
mm
400 / 220
490 / 260
490 / 260
Max. length of firewood logs
mm
330
500
500
Recommended size of buffer tank
L
1000
1500
2000
Exhaust gas temperature (operation mode)
°C
130-150
130-150
130-150
Operating temperature range
°C
65-85
65-85
65-85
Min. return water temperature
°C
60
60
60
Operating pressure
bar
3
3
3
Weight
kg
330
460
510
Cold water inlet
A, mm
R1¼"/130
R1¼"/170
R1¼"/170
Hot water inlet
B,mm
R1¼" / 1150
R1¼" / 1250
R1¼" / 1325
Sleeve for sensor of safety valve
K
Yes
Safety heat evacuator inlet/outlet
E, mm
R½"/1070
R½"/1160
R½"/1235
Flue
F, ø / mm
ø150 / 970
ø150 / 1075
ø150 / 1150
J, mm
338
382
382
Drain
Y, mm
G½" / 60
G½" / 100
G½" / 100
Cleaning opening upper
01,mm
360 / 120
455 / 120
455 / 120
Cleaning opening lower
02, mm
325 / 142
350 / 140
350 / 140
Air intake flap - primary air
V1, mm
610
655
690
Air intake flap - secondary air
V2, mm
460
505
540
Fume exhaust fan
W, mm
790
890
970
Fume extraction device
M
Yes
Cleaning system
S
Yes
Eyepiece for viewing the combustion process
P
Yes
Controller
U
Yes
For product measurements, they should be read as follows:
Cold water inlet
A, mm
R1¼ "/ 450
Y, mmm
G½ "/ 232
A is shown in the previous diagram. "R1¼" and "G½" are the measure in inches of the opening. "R" is male and "G" is female. The measurements in inches indicate the distance between the floor and the opening.
Recommended clearances between the boiler and walls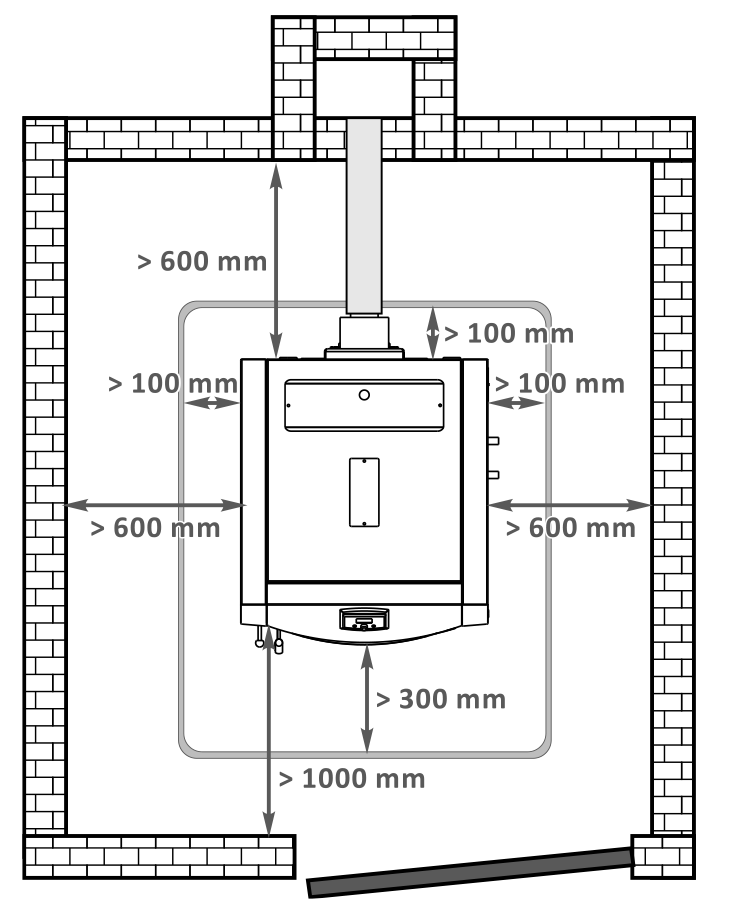 Relation between wood heating value and water content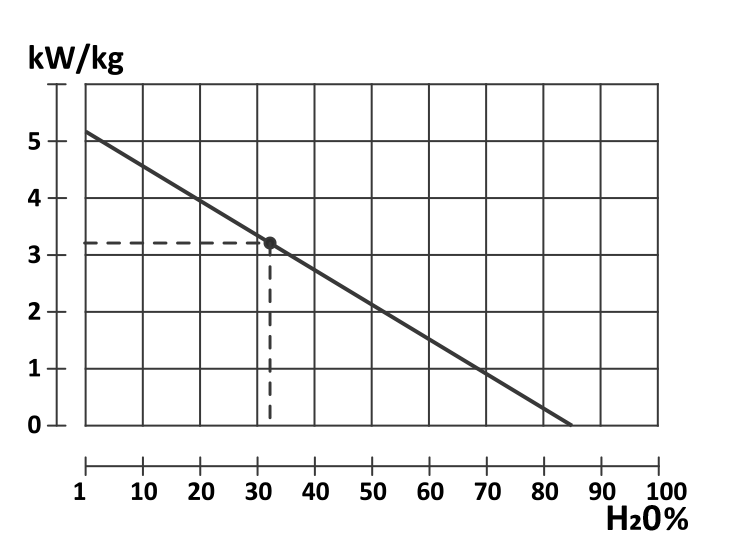 Connecting the boiler to a chimney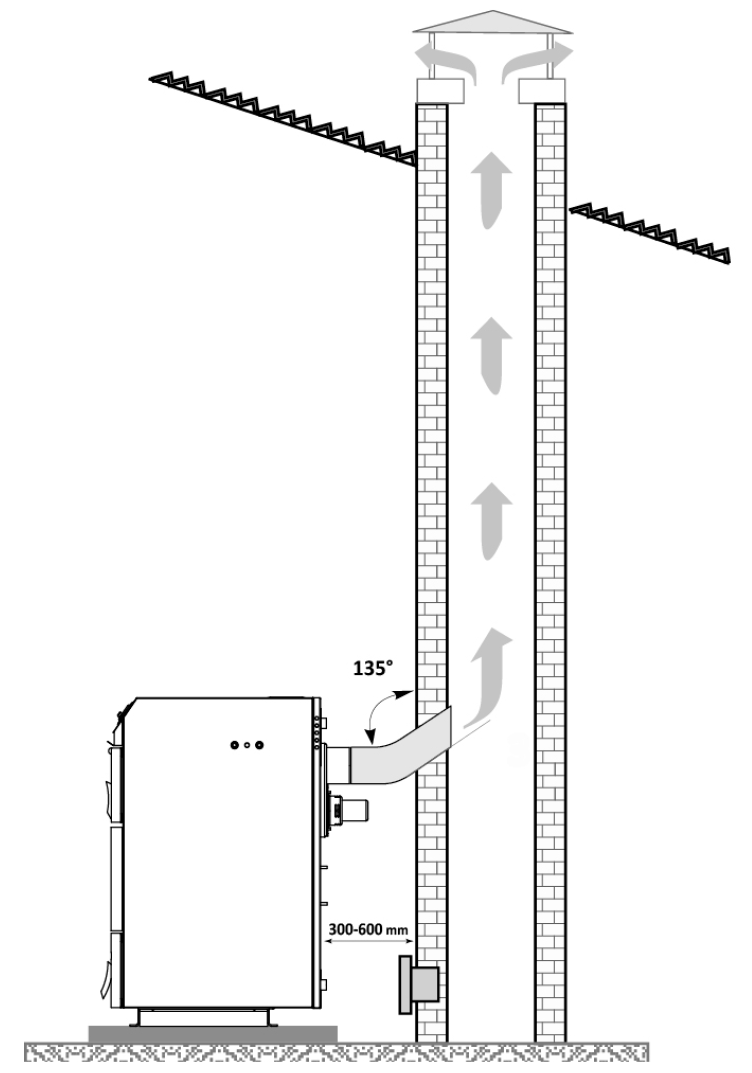 Connecting the boiler to the mains power supply
Connecting the safety heat exchanger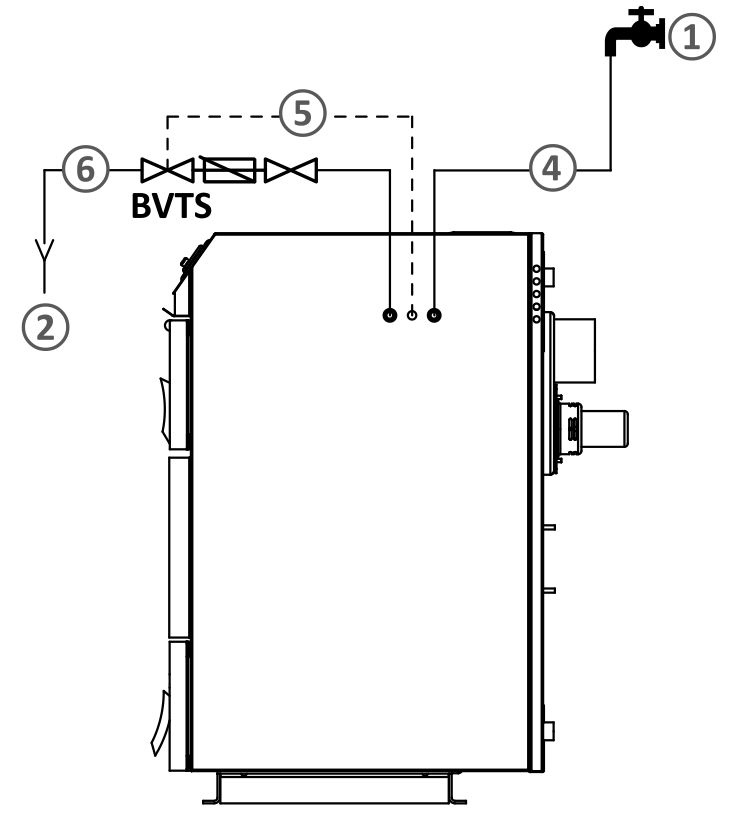 1. Water supply network (pressure 6-10 bar water temperature 8-15 °С)
2. Drainage (sewerage)
3. Boiler PB Alpha PLUS
4. Safety heat exchanger inlet
5. BVTS valve sensor
6. Safety heat exchanger outlet
Connection of PyroBurn Alpha PLUS boiler to three-way valve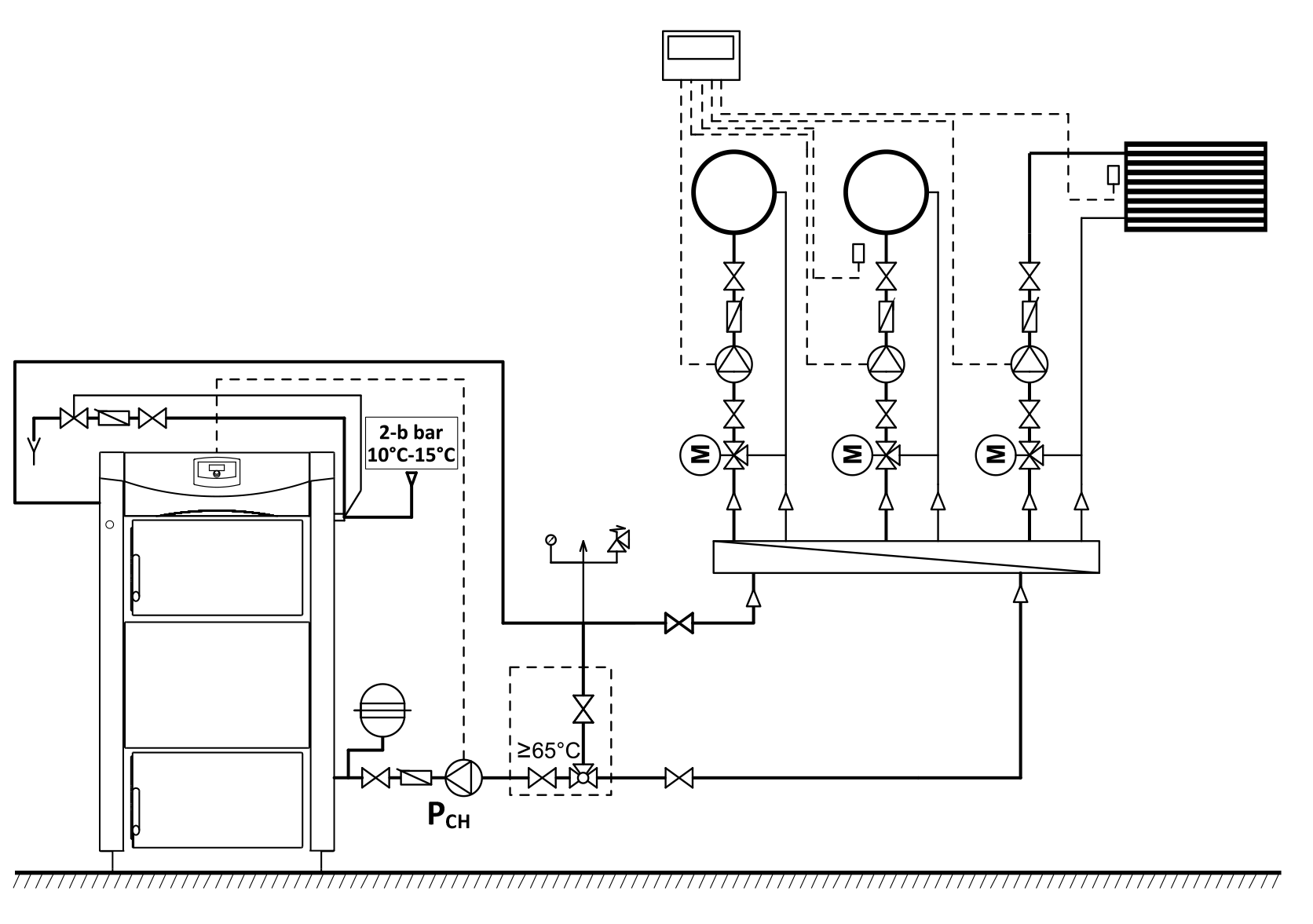 Connection of PyroBurn Alpha PLUS boiler to P type buffer tank and three-way valve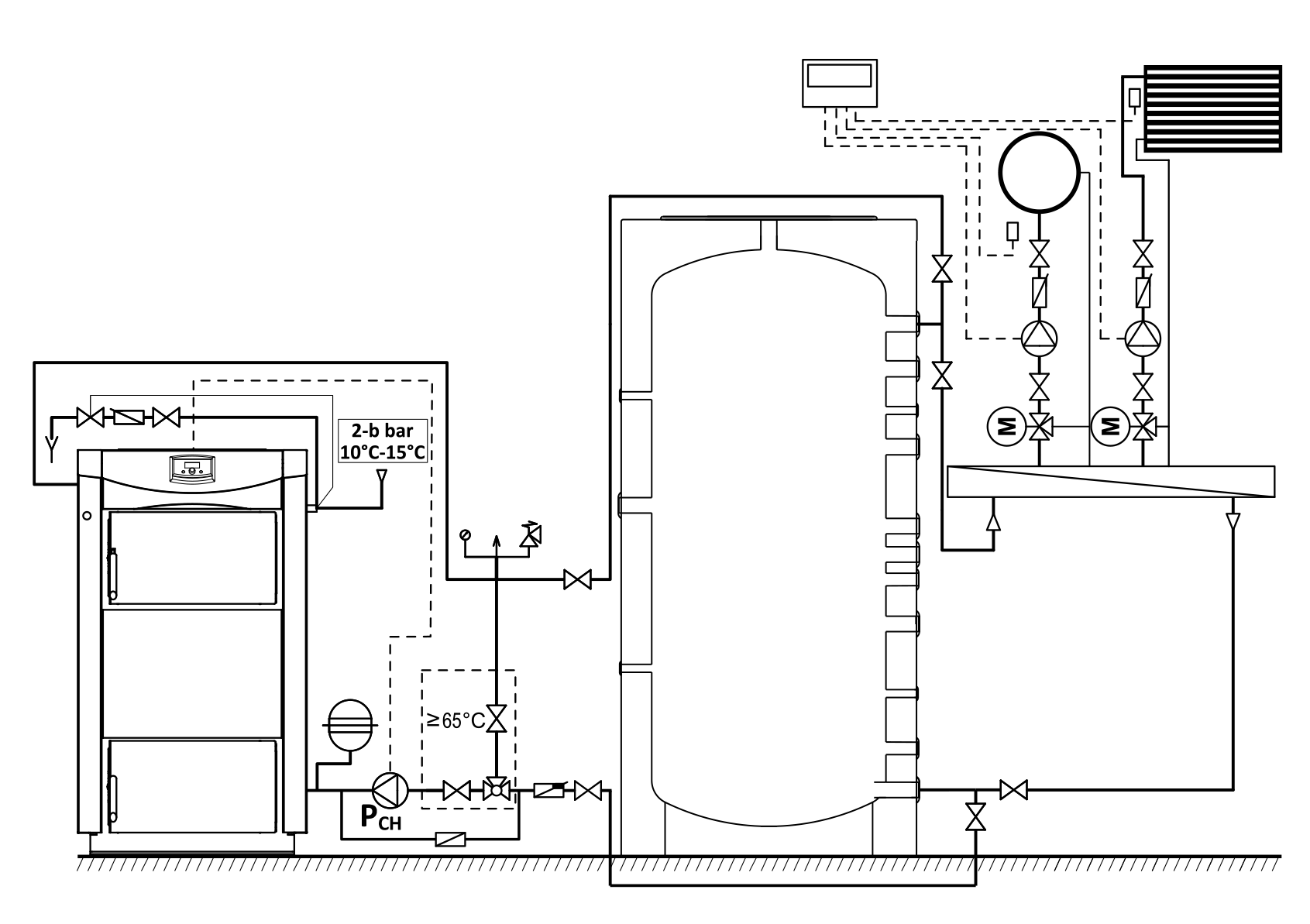 Connection of PyroBurn Alpha PLUS boiler to combi tank KSC2, flat plate collector РК and three-way valve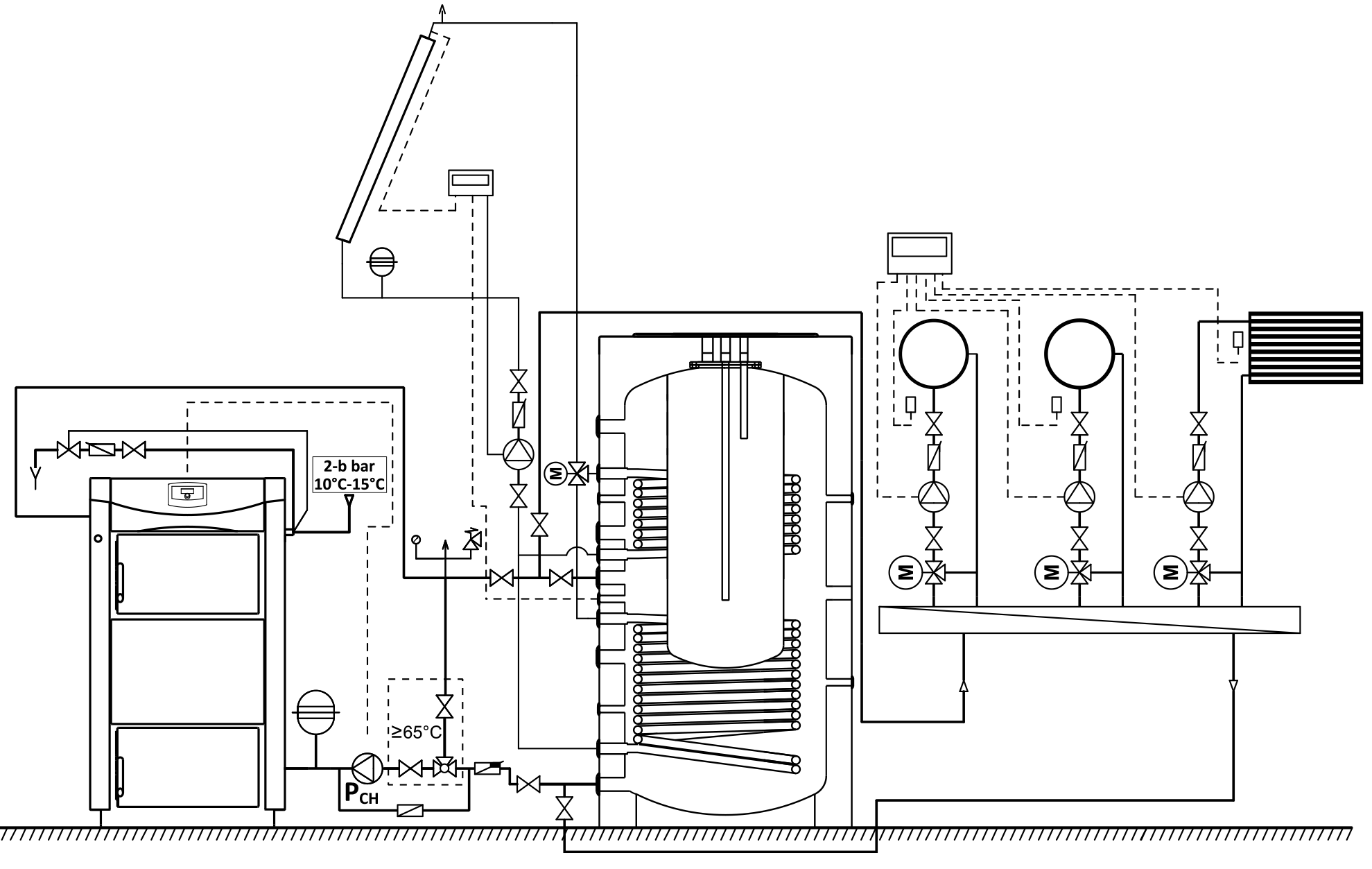 Connection of PyroBurn Alpha PLUS boiler to solar tank SON, buffer tank P, flat plate collector РК and three-way valve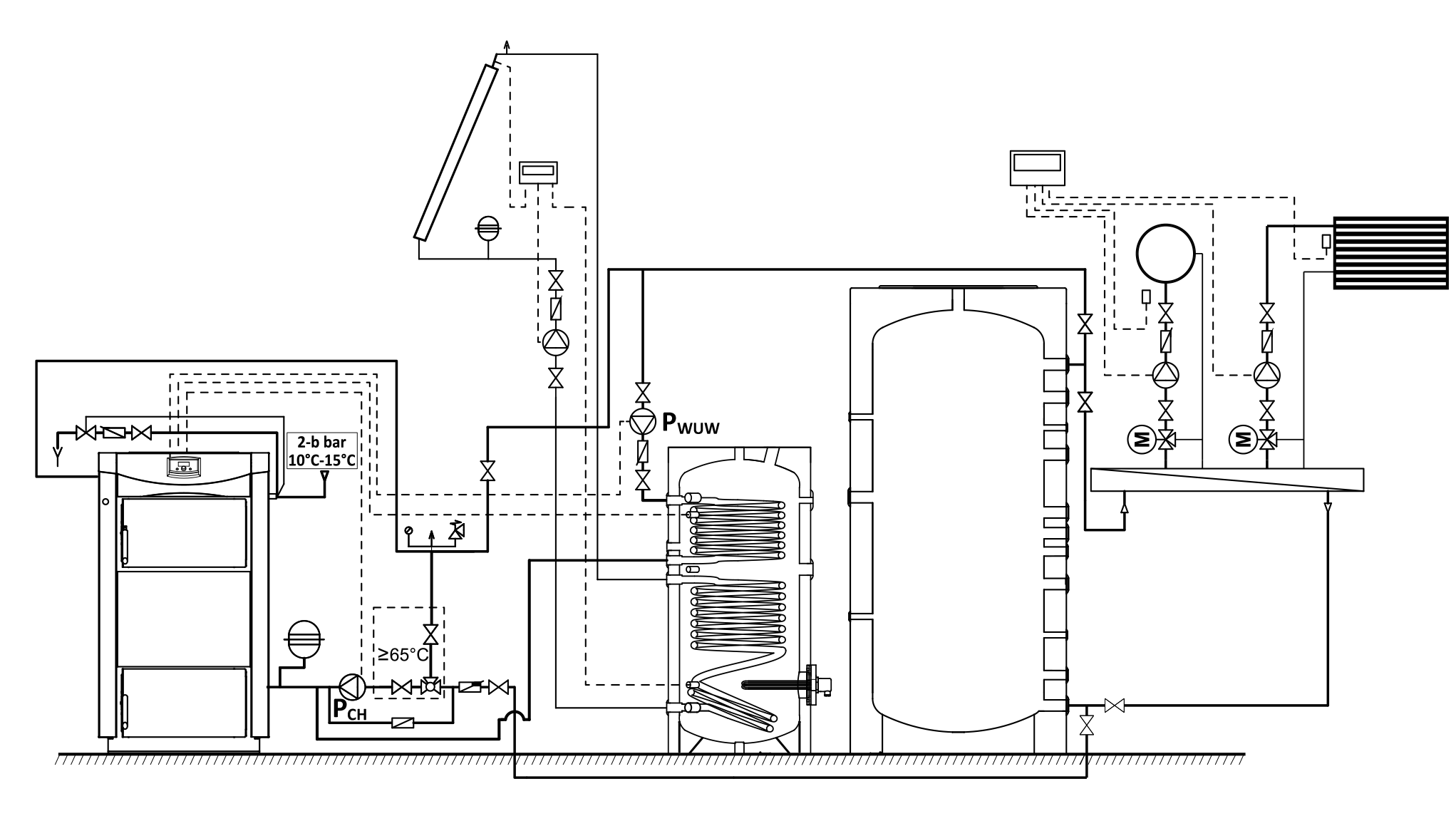 Data sheets and documentation