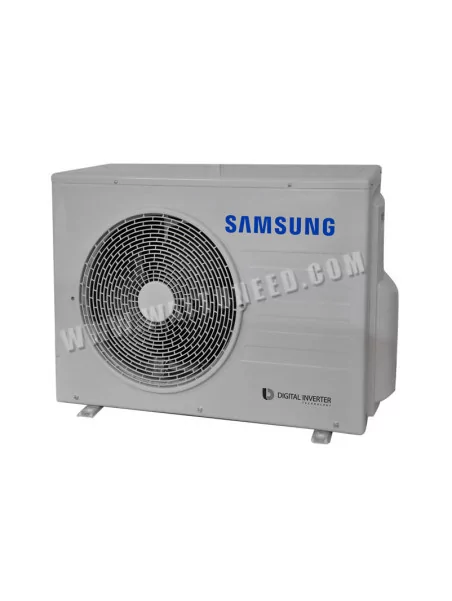 Samsung R410A refrigerant outdoor unit - 5.2kW
Samsung
More info
Samsung R410A 5.2kW outdoor unit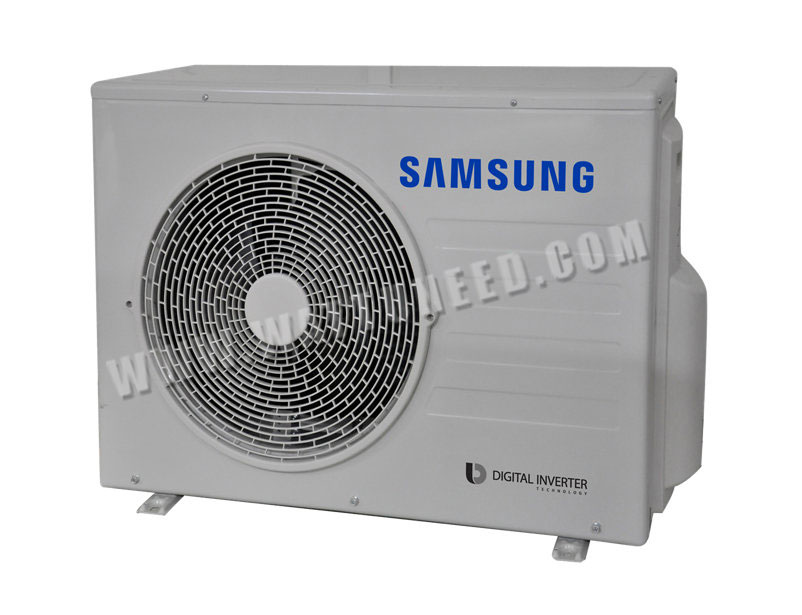 Outdoor unit single-fan
Compressor Twin BLDC
Controller by sinusoidal wave
Insulation compressor sound
setting up easy
WiFi control by smartphone or tablet (optional)
---
SAMSUNG's AJ052MCJ3EH/EU 5.2 kW exterior unit connects up to 3 interior units.
This is compatible with all the interior units of the brand (murals, consoles, cassettes or gainable).
---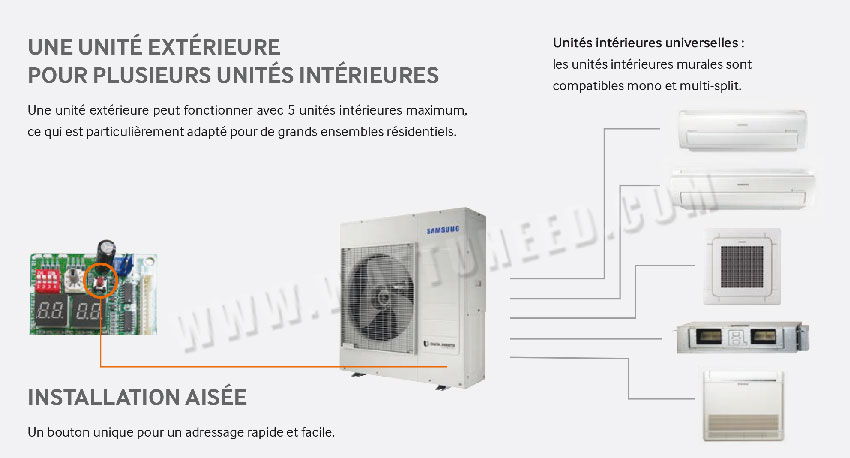 ---
SAMSUNG's Multi-Split exterior units are equipped with a compressor Twin BLDC whose moving parts are stabilized, allowing a reduction in torque variations of around 70% compared to the compressor BLDC simple classic.
In addition, they are equipped with the latest sine wave controller that reduces the overall noise level and guarantees better acoustic quality.
---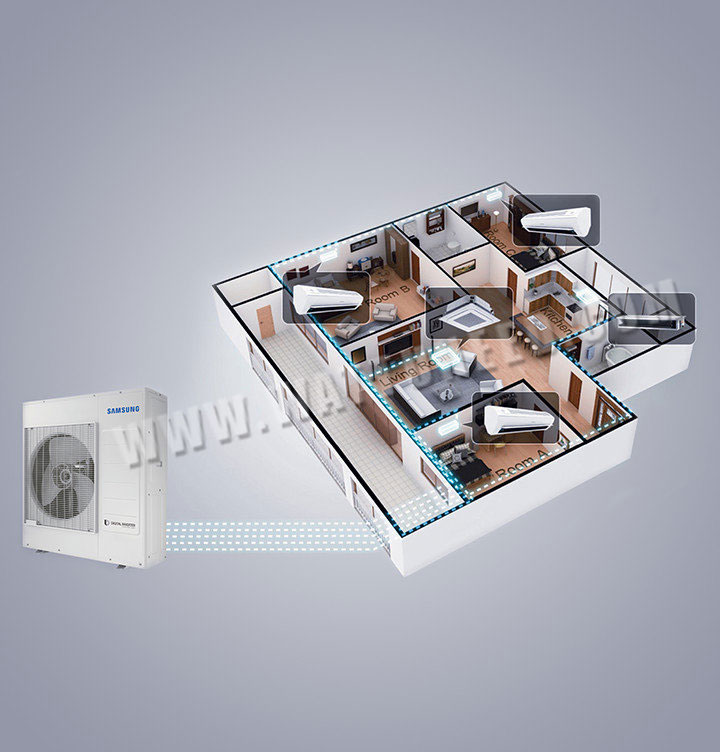 Effective air conditioning for small spaces
This heating and cooling system is optimized for residences and small buildings. Its lightweight, compact design and automatic address make it easy and economical to install.
---

High performance and longevity
Thanks to its compressor technology, Samsung's FJM exterior unit delivers high performance and high reliability. The FJM system is fully compliant with the new European regulations.
---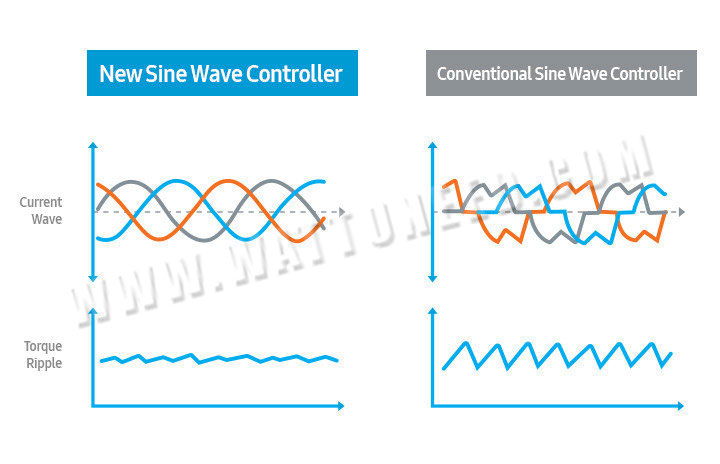 Less noise for comfort
With superior insulation and reduced vibrations, the FJM system ensures a calm environment. You will not be disturbed by the noise levels typical of conventional heating and cooling systems.
---
Characteristics
model

Outdoor unit
AJ52MCJ3EH/EU

tension

Live/♯/V/Hz
1.2,220/240.50

performance

Ability
cooling
Kw
5.2
heating
6.3
Hot power returned to -10oC ext.
Kw
3.6

power

Number of units int. Maxi connection
3
Maximum connection rate
135.00%
Absorbed power
cooling
Kw
1.35
heating
1.4
Nominal intensity
cooling
Has
6.2
heating
6.4

Energy efficiency

cooling
W/W
3.85
heating
W/W
4.5
SEER (Grade)
W/W
6.4
Indicative annual energy consumption (cooling)
kWh/a
273
SCOP (grade)
W/W
4th
Indicative annual energy consumption (heating)
kWh/a
1,715

Compressor

type
Twin BLDC Rotary Inverter

fan

Airflow
m3/hour
2,280

Fan engine

Model
BLDC
Output x n
W
40x1

Pipeline connections

Liquid piping
Live number, inch x number
1/4'x3
Gas piping
Live number, inch x number
3/8'x2 - 1/2'x1
Installation options
Maximum length
Total
m
50
Ue/Ui
m
20
Maximum height
Ue/Ui
m
15
Ui/Ui
m
7.5

Wiring connections

communication
Minimum
mm2
0.75
Communication protocol
Rs485
fuse
A/slow
20
Feeding wires
Ui/Ue
3Ue
Communication wires
Ui/Ue
3/2

Refrigerant

type
R410a
Preloaded Refensive
Kg
1.9
tCO2e
3.97

sound

Acoustic pressure
cooling
dB(A)
46th
heating
47th
Acoustic power
dB(A)
61

Dimensions (mm)

weight
Kg
44th 4th
Dimension (LxHxP)
Mr
880x638x310

Operating range

cooling
℃
-5/46
heating
℃
-15/24
Specifications
| | |
| --- | --- |
| Weight | 44 kg |
| Width | 880 mm |
| Height | 638 mm |
| Thickness | 310 mm |