Display all pictures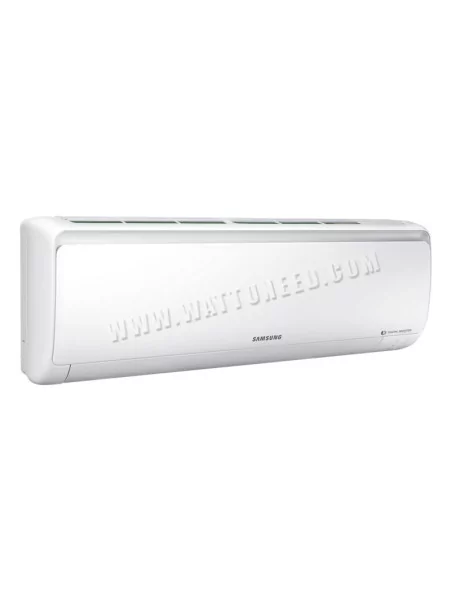 Samsung Maldives Mono-Split residential 2.5 kW heat pump
Samsung
More info
Samsung Maldives of 2.5 kW heat pump
MONO-SPLIT RESIDENTIAL
Samsung air/air heat pumps can be used to cool or heat your home or business. One extract heat pump heat or cool from the outside ambient air and the values through a circuit of compression and relaxation. Compared to conventional heating, a heat pump is a great energy advantage. Smart Inverter technology offers power heating or cooling with low power consumption. Samsung heat pumps have a COP of the order of 4! So, with a Smart Inverter air conditioner you avoid wasting energy and save you money.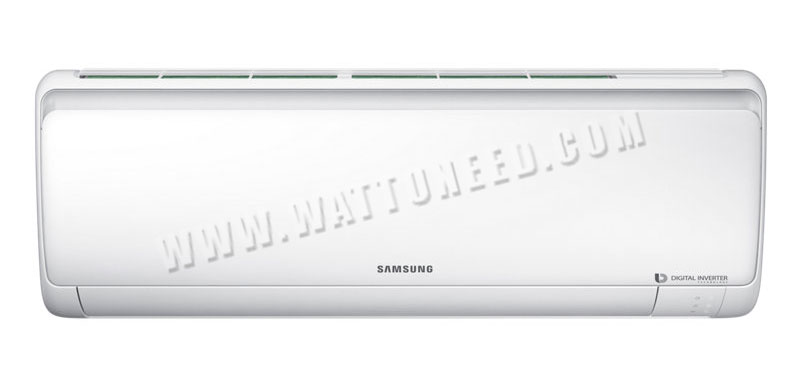 Benefits
Available in 2,5 kW
Silent operation: 21 dB (A)
Energy performance: SEER A ++ / SCOP A
Maintenance of power at negative temperature: up to 98% at-5 ° C
Compatible mono and multi-split indoor units
Filter and antibacterial coating
Night mode
Individual economic mode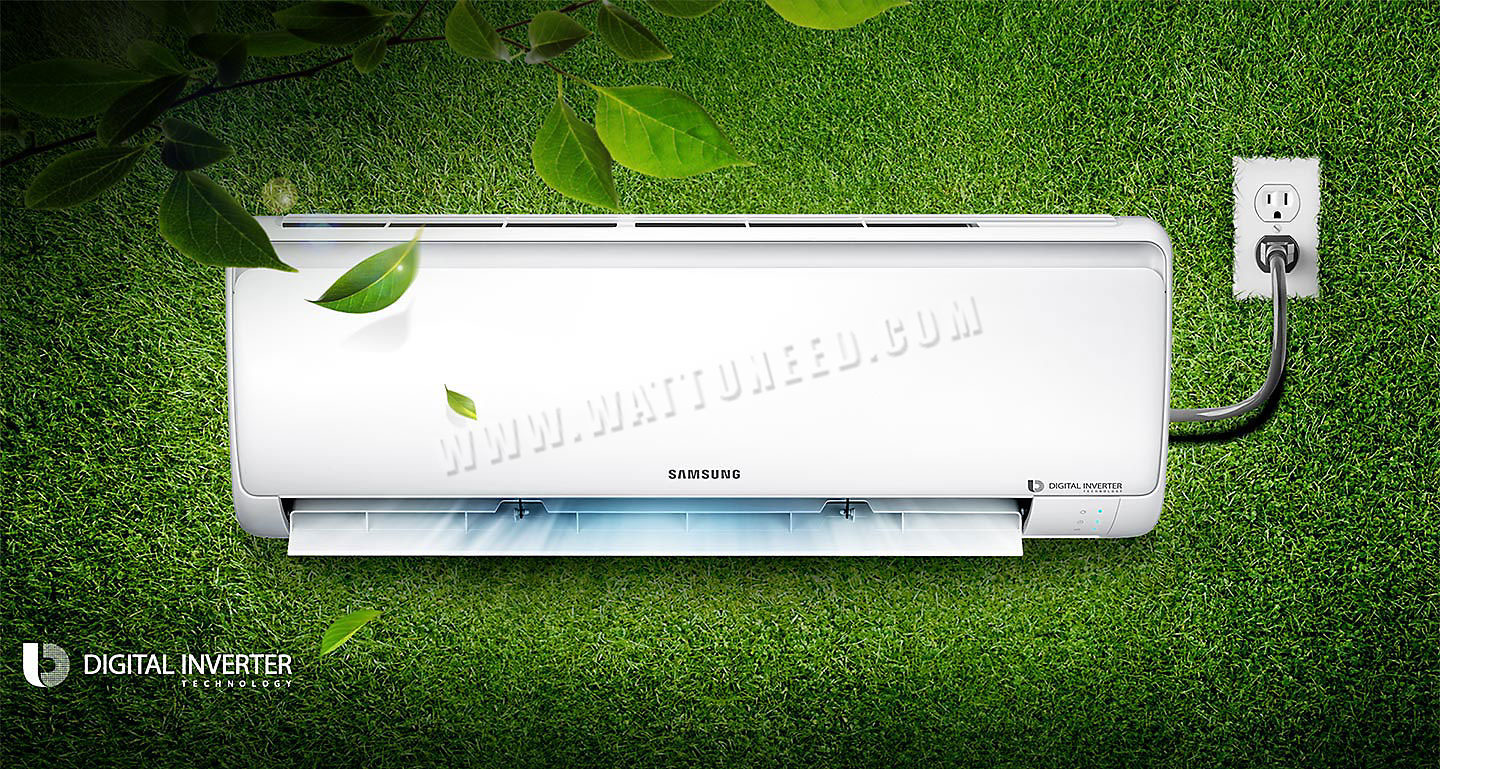 Significant cost savings and a feeling of comfort

The new compressor 8 poles is the heart of the Samsung Digital Inverter technology. It uses a motor 8 poles instead of the conventional 4 poles, allowing minimization of torque fluctuations.
More efficient operations and a reduction in consumption are thus guaranteed.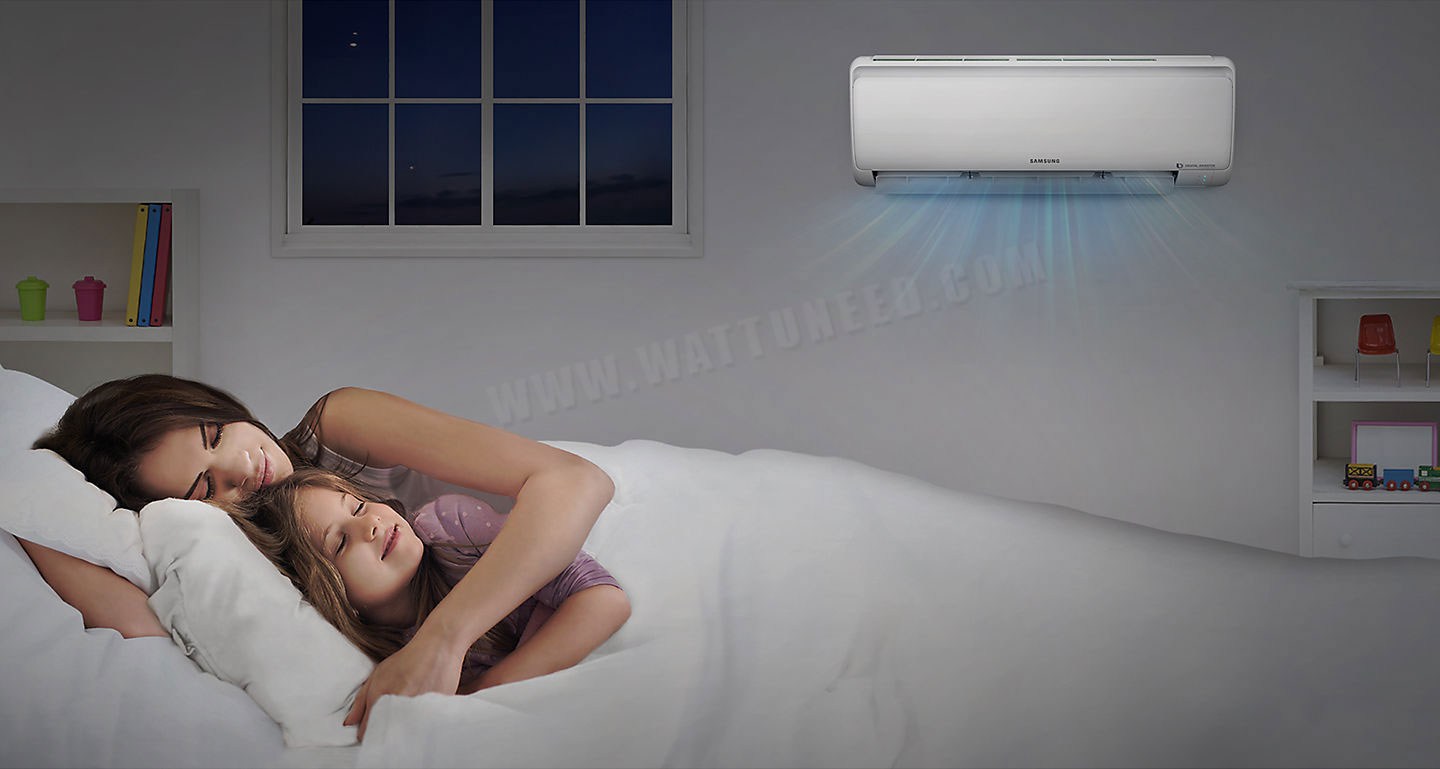 Best temperature for a deep sleep
Good night mode creates the ideal conditions for a good night's sleep. With control of the temperature, you get a great comfort: fast sleep, deep sleep and awakening.
Automatic temperature control
The automatic failover feature automatically selects the mode of operation (cooling or heating) required to maintain the temperature you have set. Allows you to enjoy an environment that remains always nice without having to constantly change the settings.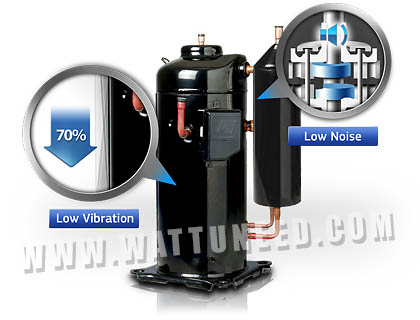 Quiet operation
The Maldives Cap uses a double compressor BLDC stable mobile parts. This engine is very efficient and produces very little vibration.
Design and order
The Maldives CAP is a classic unit that fits into the majority of interiors. Thanks to the large digital display, ordering is easy to read and manipulate.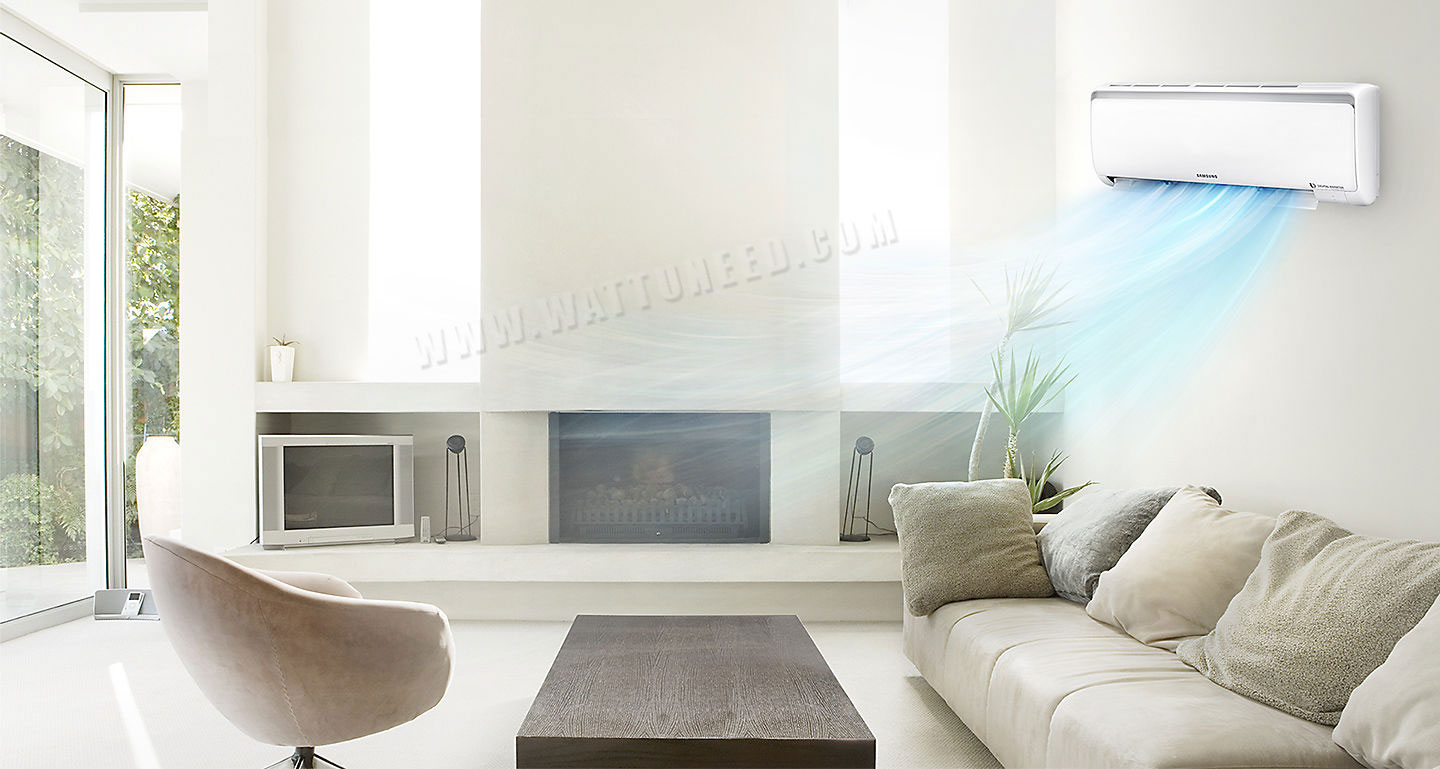 Fast refresh
The fast refresh mode allows to cool the room much more quickly thanks to the maximum operation of the compressor and the fan for 30 minutes. The digital converter 8 poles also allows to reach the maximum rate from the start.
Maintains a comfortable fresh air
The cooling mode in 2 steps begins by quickly reach the temperature you want using the fast refresh mode. Then, it automatically switches to comfort cooling mode to maintain the desired temperature. So you don't need to change any settings.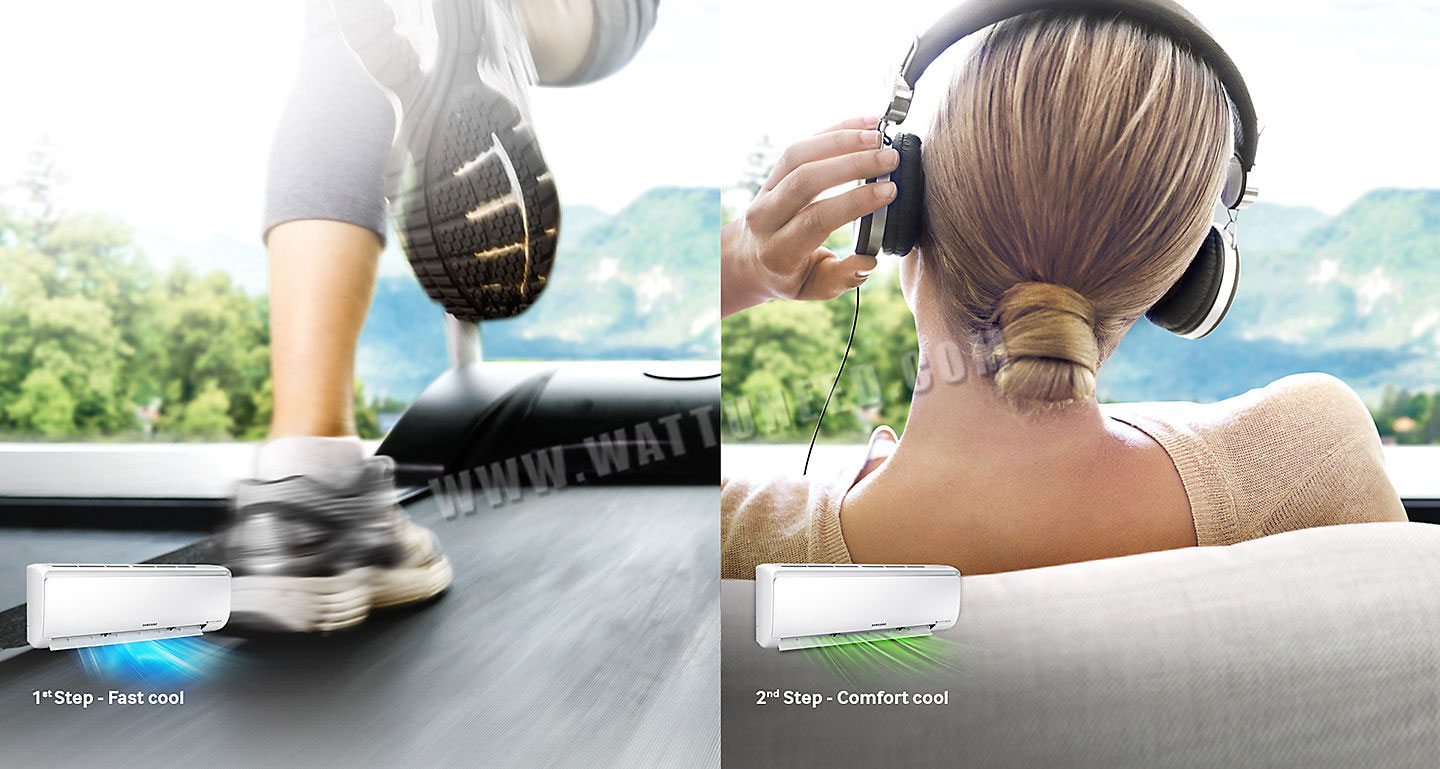 System S-Plasma ion and filter Full HD
When the air conditioner is turned off, the automatic cleaning function automatically a fan that eliminates dust and moisture in the heat exchanger. Thus, the device remains clean and dry, which prevents the formation of bacteria and mold.
Several powers are available in the options above (2.5 to 6.8 kW)
MALDIVE wall range

Indoor unit

Outdoor unit

AR09MSFPEWQNEU

AR09MSFPEWQXEU

AR12MSFPEWQNEU

AR12MSFPEWQXEU

AR18MSFPEWQNEU

AR18MSFPEWQXEU

AR24MSFPEWQNEU

AR24MSFPEWQXEU

Compatible indoor unit Mono/Multi

Yes

Yes

Yes

Yes

Power

Cold

kW (min / std / max)

1.1 / 2.7 / 3.3

1.1 / 3.5 / 4

1.6 / 5 / 6.5

1.4 / 6,8 / 7,9

Hot to + 7 ° C

kW (min / std / max)

1.05 / 3.2 / 3.4

1.05 / 3.5 / 4.1

1.2 / 6 / 7.2

1.2 / 7,7 / 8.2

Hot to-5 ° C

kW

3.03

3.32

5.87

7.76

Hot to-10 ° C

kW

2.43

2.74

5.09

6.99

Energy performance

Efficiency cold

SEER

6.1. A ++

6.1. A ++

6.1. A ++

6.1. A ++

Consumption

kWh/year

155

201

287

390

Pdesignc

2.7

3.5

5

6.8

ERA

3.21

2.76

3.45

3.01

Hot efficiency

SCOP

3.8. A

3.8. A

3.8. A

3.8. A

Consumption

kWh/year

737

811

1 400

1 547

Pdesignc

2

2.2

3.8

4.2

COP

3.52

3.5

3.43

3.01

Dehumidifier

l/hr.

1

1.5

2

2.5

Airflow max.

Indoor unit

m³/h

552

678

966

1098

Outdoor unit

m³/h

1500

1500

2880

3300

Sound power

Indoor unit

dB (A)

56

59

58

63

Outdoor unit

dB (A)

63

65

65

69

Sound pressure

Indoor unit (PV / GV)

dB (A)

21 / 38

21 / 42

25 / 42

29 / 45

Outdoor unit

dB (A)

46

48

51

54

Operating range

Cold

° C

-5 ~ 46

-5 ~ 46

-10 ~ 46

-10 ~ 46

Hot

° C

-10 ~ 24

-10 ~ 24

-15 ~ 24

-15 ~ 24

Electrical data

Power

V / Hz.F

220 - 240 / 50 / 1

220 - 240 / 50 / 1

220 - 240 / 50 / 1

220 - 240 / 50 / 1

Outdoor unit

Compressor type

BLDC - 8 poles

BLDC - 8 poles

BLDC - 8 poles

BLDC - 8 poles

Anticorrosion treatment

•

•

•

•

Absorbed power

Cold

W

840

1270

1450

2260

Hot

W

910

1000

1750

2560

Rated current

Cold

A

4.1

6

6.6

10

Hot

A

4.2

4.7

7.9

11.2

Cable section

Power EU

F / mm

3G 2, 5

3G 2, 5

3G 2, 5

3G 2, 5

Electrical interconnection UI *.

F / mm

3G 1, 5

3G 1, 5

3G 1, 5

3G 1, 5

Interconnection of communication (bus)

F / mm

2G 0, 75

2G 0, 75

2G 0, 75

2G 0, 75

Head protection

A

10

16

16

25

Dimensions and weight

Dimensions (L x H x D)

Indoor unit

mm

820 x 285 x 215

820 x 285 x 215

1065 x 298 x 230

1065 x 298 x 230

Outdoor unit

mm

660 x 475 x 242

660 x 475 x 242

880 x 638 x 310

880 x 793 x 310

Weight

Indoor unit

kg

8

8

11.4

11.4

Outdoor unit

kg

22.4

22.8

52

52.5

Cold links

Refrigerant

Type

R410A (gases gases, GWP = 2, 088)

Factory load (5 m)

kg

0.88

0.88

1.3

1.5

CO² equivalent load

tCO2e

1.84

1.84

2.72

3.14

Additional charge

g / m

15

15

15

15

Diameter of connection

Gas

inches

6.35

6.35

6.35

6.35

Liquid

inches

9.52

9.52

12.7

15.88

Length of connection

Min / Max

m

3 / 15

3 / 15

3 / 30

3 / 30

Vertical drop

Max

m

8

8

15

15

Evacuation of the condensate

Diameter pipe

F / mm

20 OD / ID 18

20 OD / ID 18

20 OD / ID 18

20 OD / ID 18

Features

Air circulation

Direction of the air (up/down)

Auto

Auto

Auto

Auto

Auto Fan speed

•

•

•

•

Air quality

Easy filter +.

•

•

•

•

Coating antiallergenes

•

•

•

•

Antibacterial coating

•

•

•

•

Coating Antivirus

•

•

•

•

Automatic cleaning

•

•

•

•

Modes of operation

Refreshment 2 steps

•

•

•

•

Fast refresh

•

•

•

•

Cool comfort

•

•

•

•

Night mode

•

•

•

•

Dehumidifier mode

•

•

•

•

Automatic mode

•

•

•

•

Ventilation mode

•

•

•

•

Silent mode

•

•

•

•

Advanced features

Display On / Off

3 LED

•

•

•

•

Beep On / Off

•

•

•

•

24 Hour Timer / Real Timer

24 - Hour

24 - Hour

24 - Hour

24 - Hour

Auto restart

•

•

•

•