Display all pictures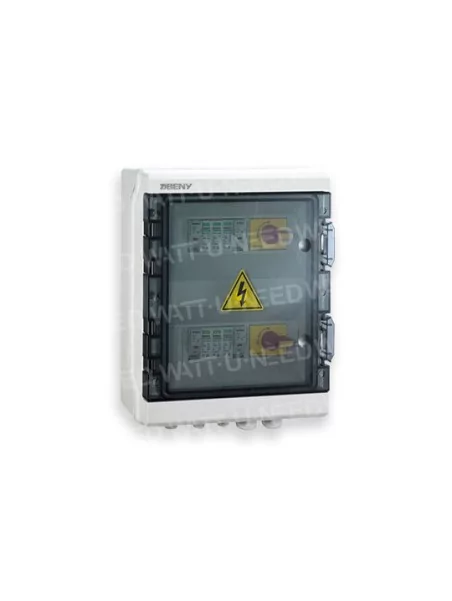 1000V 32A DC double surge protector ZJBENY
ZJBENY
More info
ZJBENY DC double parafoudre box 1000V 32A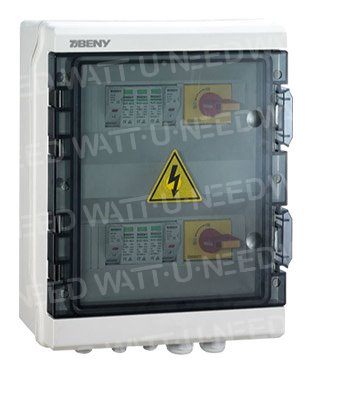 THE BHS series DC thong suit cases provide branch-level protection to integrated solar photovoltaic systems with charge breakers, with protection against over-intensities and the removal of transient surges.
For the protection of panels in two strings

DC parafoudre box consisting of 2 strings as a starter, 2 strings for BHS-2/2 output. It is also equipped with the all-new DC-PV2 1000V, a DC 1000V secure touch fuse holder and a Type 2 DC parafoudre.
These reliable PV components provide maximum branch protection.
The solar PV system remains safe and in good working order, extending the life of the system.
---
Characteristics
- 1000V
- Entry 2 strings
- Out 2 strings
Box: BX-26
- Degree of IP65 protection for the exterior and interior
- UV resistance, fire retardant PC material
- Dimension 292 x 370 x 132 mm
DC Switch: BYT.2a-32
- 1000V 4P 32A
- Highly reliable DC-PV2 category
- IEC 60947.3
Type 2 DC Parafoudre: BUD-40/3
- Protection from power surges
- 1000V 40 KA
- IEC61643 / EN50593
- Recommended by the biggest inverter brands
DC fuse holder: BR-30
- Protection from over-intensities
- LED indicator
- Protection from contact with fingers
- 10 x 38 mm LITTEL 1000V 15A
---
Principle scheme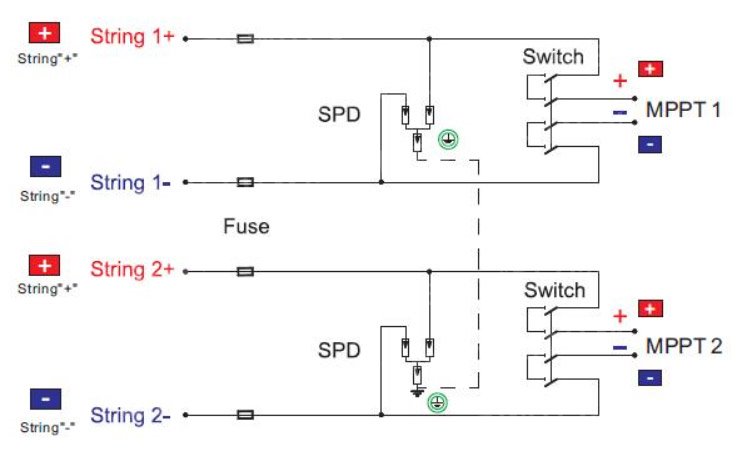 ---
Characteristics
General data
Model number
BHS-2/2
Entry
2 thong
Output
2 thong
Maximum voltage
1000v
Dc short-circuit current maxi per entry (Isc)
15A (Modifiable)
Maximum output current
32A
Housing
BX-26
Type of material
Polycarbonate/ABS
Degree of protection
IP65
Degree of impact resistance
IK10
Dimension
292 x 370 x 132 mm
Cable Entry
PG09 Shoulder press, 2.5-16mm
Exit cable clip press
PG21 2.5-16mm2
DC Switch-sectionor
BYT.2-32/BYS
Nominal isolation tension
1000v
Nominal current
32A
Category
DC21B/PV2
Compliance with the standard
IEC 60947-3
Certificate
UL, TUV,KEMA,SAA,CE
D.C. Parafoudre
BUD-40/3
Maximum operating voltage (Ucpv)
1000v
Compliance with the standard
EN 50539 Type 2
Maximum discharge current
40 KA
Certificate
TUV THIS
DC fuse holder
BR-30
Led
Yes
Nominal operating voltage
1000v
Fuse link
10x38mm LITTEL 15A
Certificate
UL,CB,CE
Environment
Operating temperature
-20 degrees Celsius, 60 degrees Fahrenheit
Humidity
99,00%
Altitude
2000M
Installation
Wall mounting
Data sheets and documentation