Display all pictures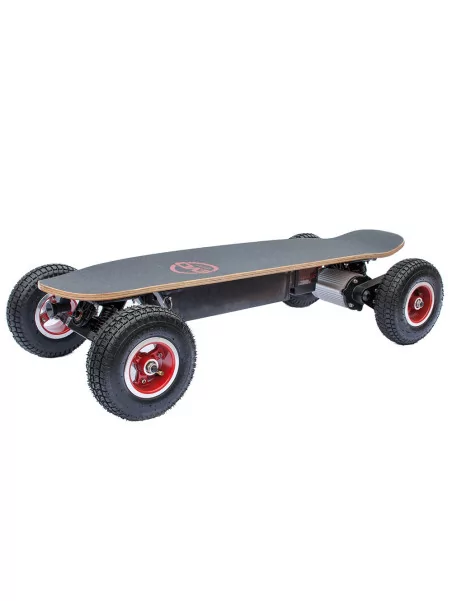 Evo Cross 1000 V4 Brushless electric-skate
Evo
More info
" Cross 1000 the all-terrain skate-board "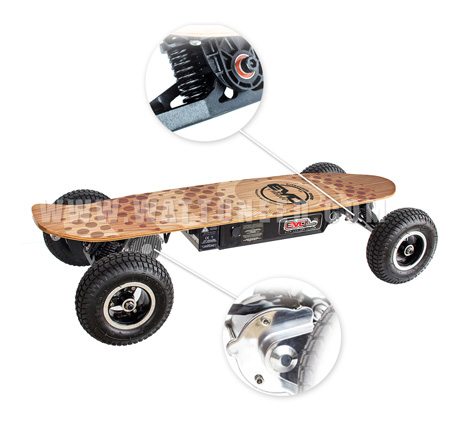 The nervous Off Road electric skateboard
Fitted with the most powerful motor of all our models, here is the latest model from EVO Skate : the electric skateboard CROSS EVO 1000 V4 .
It is the nervous Off Road model and most powerful of the aggressive CROSS range that will suit confirmed all-terrain riders !
Speed, power and thrills are guaranteed on all surfaces. Its large tires have an unmatched grip and ability to get over obstacles. It is THE skateboard for speed and power on all surfaces!
Evo skateboards have a special finishing touch and are equipped with lots of unique options such as an almost totally waterproof motor, controller and battery pack thus avoiding ruining the electronic parts on wet roads, a light on the remote control enables you to see and be seen in the dark, carrying handles on the side of skate and a maple board covered with several anti UV layers
---
Technical specifications
Speed : 40 km/hr
Battery range: Up to 30km, depend on battery type.
Motor power : 1000w
Charging time : from 3hrs to 4hrs. Firt charges are longer
Type of tires : tires with inner tubes spring
Trucks : Spring
Transmission : Belt
Weight without battery : about 16.5kg
---
Batteries in option
Option SLA 14 Battery :
- charging time 4H
- charger power : 1,5 Ah
- Battery range : 17km / Speed : 35 km/h / large bloc
Option Lithium 14 Battery :
- charging time 4H
- charger power : 2Ah
- Battery range : 20km / speed : 40 km/h / small bloc
Option Lithium 20 Battery :
- charging time 6H.
- charger power : 2Ah
- Battery range : 30km / speed : 40 km/h / large bloc
---
Zoom on the Cross 1000 V4 specifications
---
Video : the Cross models in action
Data sheets and documentation