Display all pictures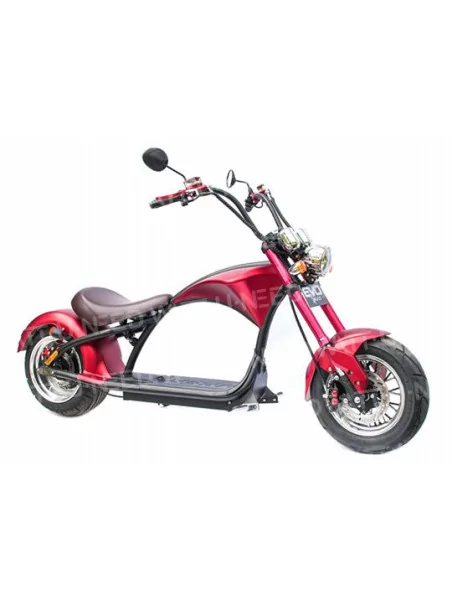 EvoChopper Electric Motorcycle
Wattuneed
More info
EvoChopper
The EvoChopper is an electric motorcycle inspired by the design of American choppers.
Its "road" certification allows you to drive legally and serenely on the roads, to get to work or for walks by the sea or in the forest without making any noise.
---

Engine 2000w

With its engine built into the rear wheel, this electric bike/scooter will take you up to 45km/h, the maximum legally allowed and without the slightest noise.
---
Li-on 60V 20A.h lithium battery

This electric motorcycle/scooter is equipped with a 60V lithium battery for torque and a capacity of 20Ah for a long range.
The range is 50km maximum in optimal conditions and between 20 and 30km in real conditions depending on the type of use and the difference in height.
---

Alarm and security

The EvoChopper is equipped with a powerful alarm that activates with the remote control provided and triggers at the slightest movement of the handlebars.
This electric motorcycle is equipped with all the safety features that can be found on a thermal motorcycle, such as hydraulic disc brakes, front and rear flashers and the stoplight. But also a crutch with anti-start system, the locking of the fork has key.
---
Warranty

The warranty is 2 years (or 2000 kms) except for the 1 year battery (or 1500 kms).
---

Easy maintenance

Evo-Spirit designs its vehicles with the aim of facilitating maintenance when needed. Replace the battery, controller or engine in a matter of tens of minutes. Evo-Spirit has all the spare parts in stock and keeps them for several years even for models that are no longer in the catalog, allowing you to maintain your scooter for the long term.
---
Technical features
Battery: Li-on 60V / 20A.h
Engine power: 2000W
Seat height: 65cm
Length: 1m82
Tire: 12 inches
Hydraulic disc brake
Maximum speed: 45km/h (maximum allowed)
Autonomy: 50km Max, in optimal conditions, between 20 and 30km in real conditions.
Maximum weight: 200KGS
Charge time: 4 hours
Packaging size: 182-77-37.5
Net weight: 72KG, Gross weight: 80KG
Front and rear shock absorbers
Front and rear headlights
Fire-stop
Flashing front and rear
Klaxon
Mirrors
Make-up with anti-start system
Locking the key fork
Alarm with remote control
1 Seat