Display all pictures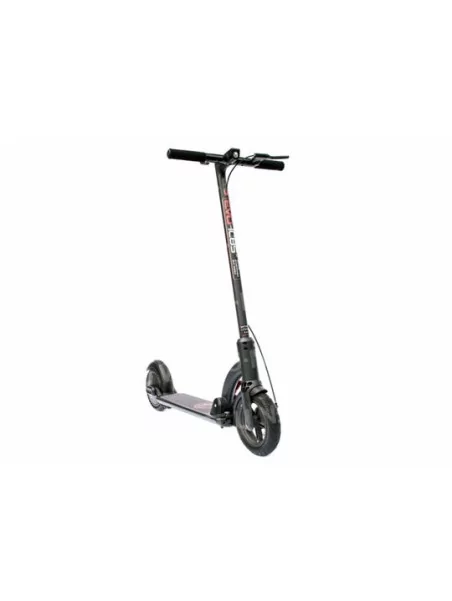 Electric scooter Evo IC85-V2
Evo
More info
EVO-IC85 V2
The Evo-IC85 v2 electric scooter is versatile and comfortable, it can be used both in the city and on the roads.


Wheels

The front wheel of this electric scooter is inflatable for comfort and the rear wheel equipped with EAFT (Evo Air Free Technology) technology.
The rear wheel is non-inflatable so indestructible and absorbs shocks for optimal comfort.
The EAFT concept consists of having a rubber tire, with 1 row of holes crossing, allowing to have a cushion on the bumps, pebbles ... for more resistance.
Brakes

The Evo-IC85 v2 scooter is equipped with an electronic brake that activates by pressing the brake lever slightly. If necessary, just press the brake lever harder to activate the front disc brake. It is of course possible to use the mechanical brake at the foot in the back.

Digital display

The built-in display on the handlebars lets you visualize speed, battery level and speed mode (speed I or speed II).
The button below allows you to turn on the light, change gear mode, turn on and off the electric scooter.
Batteries "Made in France"

The controller and battery are integrated into the tray of the electric scooter
The battery life for the French 7A.h battery is 20km maximum, 10km in real conditions.
The battery life for the French 10.5A.h battery is 32km maximum, 16km in real conditions.
Depends on the user's weight, type of driving and dereve
Brushless

Located in the rear wheel, the scooter's engine has a power of 250 watts and can go up to 25km/h
Powerful LED light
The front light of the IC85 v2 is ultra bright and consumes only 1.5 watts.
Battery charger

As with all electric vehicles such as gyropods, electric scooters, hoverboards... its lithium battery (li-ion) recharges thanks to the charger 2 Ampers provided, and its charging time is between 2 and 2:30
Guarantee and Easy Maintenance

The warranty is 2 years for scooters and 1 year for battery. More info
Evo-Spirit has designed the Evo-IC85 v2 electric scooter with the aim of facilitating maintenance when needed. Replace the controller or engine in a matter of minutes.
Evo-Spirit has all the spare parts in stock and keeps them for several years even for models that are no longer in the catalog, allowing you to maintain your electric scooter for the long term.
Technical features

Digital display built into the handlebars.
"Made in France" battery
Data sheets and documentation