Display all pictures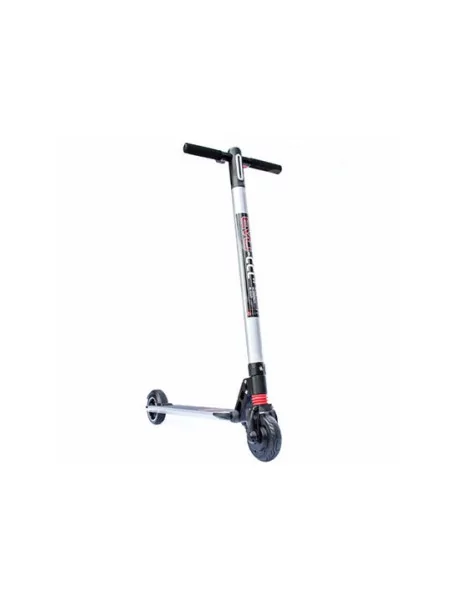 Evo CCL-V3 Electric Scooter
Evo
More info
EVO CCL V3
Smartphone app

Connected to Bluetooth, your phone becomes a smart display: Medium speed / Max speed / Autonomy / Time of use...
---
Digital display built into the handlebars
LG 24v battery and controller built into the tube

3 types of battery:
Lithium 5.2 A.h.: range: 13km Max / speed: 25km/h
Lithium 7.8 A.h.: range: 20km Max / speed: 25km/h
Lithium 12.8 A.h.: range: 32km Max / speed: 25km/h
---
Brushless engine in front wheel

Engine power: 250w
Wheel diameter: 5.5 inches / 14.5cm
---
Suspensions on the front wheel

For more comfort
---
Powerful LED light
Utra bright and with a consumption of only 1.5w
---
Electronic accelerator and brake
---
Back wheel in gum and mechanical brake at the foot
---
Simple and fast folding system

Fold sizes:
Length: 100 cm
Width: 20cm
Height: 15 cm
---
Stand
360-degree handlebar rotation

with battery and controller
---
Charge time

Battery 5.2 A.h.: 1.5H
Battery 7.8 A.h.: 2H
Battery 12.8 A.h.: 3H
---
Weight

Evo-CCL with battery 5.2 A.h.: 7.7 kg
Evo-CCL with battery 7.8 A.h.: 7.9 kg
Evo-CCL with battery 12.8 A.h.: 8.1 kg
---
Easy maintenance

Evo-Spirit designs its scooters with the aim of facilitating maintenance when needed. Replace the battery, controller or engine in just a few minutes with an Allen key. Evo-Spirit has all the spare parts in stock and keeps them for several years even for models that are no longer in the catalog, allowing you to maintain your scooter for the long term.
Data sheets and documentation