How to participate ?

Send a presentation of your project to info@wattuneed.com and answer those questions :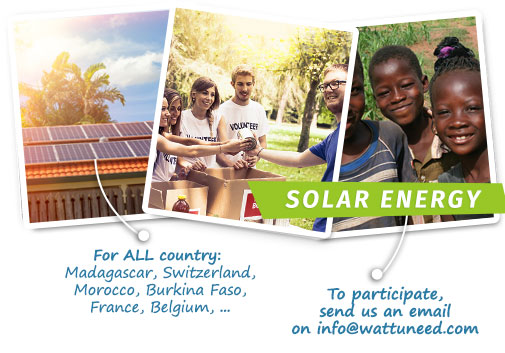 1. Who are you and where are you? Presentation ...
Perhaps you are a school class in Burkina Faso, an organic farm in northern France, a remote village in Corsica or clinic in Togo?
Present yourself with a writing and a series of pictures or even video.
Where is your group or association located, what are your activities, your members ...? We want to know who you are :-)
2. What is your project?
The winner will see his project sponsored by Wattuneed. Equipment will be offered up to € 2,000 !
Tell us about your project or problem that could be solved with the installation of a photovoltaic system.
Maybe you want to bring electricity in your school, a water (solar) pump system in your village or lighting in your parish ... tell us your story!
PS: Feel free to attach photos or videos.
>> Send us those informations by email
Send us your presentation and photos on info@wattuneed.com before the 30th June 2016 with as subject of the email "Sponsoring Wattuneed".
Your participation will be taken into account !
>> The 3 best projects will be selected on the basis of technical feasibility and the benefit provided to the community!
1st prize : The winner will receive a voucher of € 2,000 for photovoltaic material, valid on our website.
2nd Prize & 3rd prize : They will receive many prizes including small photovoltaic equipment (small lighting kit, 50W panel ...)
The presentations of the winners and their projects will be shared on our website and on our facebook page! ;-)

---
Règlement
Article 1. Conditions de participation
Ce jeu est ouvert à toute personne majeure ou groupe de personnes composé d'un moins une personne majeure.
Article 2 : Lot mis en jeu
Les 3 projets seront désignés gagnants. Le 1er prix se verra offrir le matériel nécessaire à la réalisation de son projet à hauteur de 2000 €, le 2e et le 3e prix recevront des lots de consolation incluant entre autre des panneaux 50Wc et des kits solaires portables 3Wc 12V.
Le 1er prix sera également conseillé d'un point de vue technique dans son projet si cela est nécessaire ou souhaité.
Le matériel sera livré
> soit à l'adresse indiquée par le participant dans le courriel (pour les projets en Europe),
> soit dans le port ou l'aéroport le plus proche de l'adresse indiquée par le gagnant (pour les pays hors continent européen).
Le gagnant ne peut prétendre obtenir la contre valeur en espèces du lot gagné ou demander à financer un autre projet que celui présenté dans le dossier de participation envoyé par e-mail.
Le lot est nominatif à un groupe de personne ou une association, non commercialisable et ne peut être attribué ou cédé à un tiers.
Article 3 : Modalités de participation
Pour que la participation au concours soit prise en compte, le participant doit :
1. Envoyer sa candidature jusqu'au 30 juin inclus par e-mail à l'adresse info@wattuneed.com
2. La candidature des groupes participants contient un dossier de présentation avec des textes, photos ou vidéos. A travers la média choisit, les participants présentent :
- leur groupe, école, association, sa personne ... en parlant notamment de leur(s) activité(s), les personnes en faisant partie, l'endroit ou la région où il se situe,... L'objectif est d'apprendre à vous connaître ainsi que vos activités !
- un projet nécessitant l'utilisation de matériel photovoltaïque vendu sur notre site www.wattuneed.com. Le projet est réaliste et viable d'un point de vue technique. Idéalement il est profitable au plus grand nombre de personne ou apporte un plus important à votre communauté. Le projet ne peut avoir un objectif ou un enjeu commercial. L'objectif de vérifier si votre projet est réaliste, non-commercial et si il a des retombées positives pour les êtres humains qui composent votre groupe ou vous entourent.
Votre projet et votre groupe sera présentés sur notre site internet et notre page Facebook. Vous autorisé donc Wattuneed à communiquer sur votre projet. Vous vous engagez également à nous tenir au courant de l'avancement de votre projet et nous envoyez des photos ou vidéos une fois le matériel fournit par Wattuneed installé.
Wattuneed se réserve le droit de modérer et supprimer toute participation ne respectant pas ce règlement.
Article 4 : Détermination du gagnant
Le concours prend fin le 30 juin 2016 à minuit. Les gagnants seront désignés parmi les participants, par l'équipe Wattuneed, en tenant compte du réalisme de leur projet, des ses retombées positives pour les êtres humains qui composent leur groupe ou les entourent ainsi que l'aspect altruiste de leur démarche.
L'annonce des gagnants se fera par e-mail à tous les participants ainsi que sur la page Facebook Wattuneed dans la semaine suivant la clôture du concours.
Il appartiendra alors au gagnant de se manifester par une réponse contenant entre autre ses coordonnées complètes pour la livraison du matériel. Les groupes gagnants se verront proposer une liste de matériel correpondant à la réalisation de leur projet.
Les gagnants disposeront alors d'un délai de 2 mois pour venir retirer leurs lots ou pour nous communiquer l'adresse de livraison.
Tout gagnant qui n'aura pas retiré son lot ou fourni une adresse de livraison correcte passé un délai de 2 mois à compter de la désignation du gagnant se verra considéré comme ayant renoncé à son gain.
La société organisatrice s'engage à faire les meilleurs efforts afin de contacter le gagnant. Cependant, si le gagnant reste injoignable, ce dernier sera considéré comme ayant renoncé à sa dotation.
En cas d'une livraison du lot au gagnant dans une destination outre-mer, il est indiqué que le transport peut prendre plusieurs semaines mais que la société organisatrice fera son possible pour faire parvenir au gagnant son gain le plus rapidement possible.
Wattuneed s'engage à assumer les frais de livraison des lots aux gagnants. Cependant les frais de dédouanement éventuels (en cas de livraison outremer) restent à la charge du destinataire.
Article 5 : Acceptation du règlement
Toute participation à ce jeu entraîne l'acceptation entière et sans réserve de ce règlement.
Toute fraude, tentative de fraude ou non-respect de ce règlement entraînera la disqualification immédiate et automatique de la personne concernée, la société organisatrice se réservant le cas échéant, le droit d'engager à son encontre des poursuites judiciaires.
Toute déclaration manifestement fausse ou erronée de la part du participant entraînera sa disqualification immédiate.
La société organisatrice se réserve le droit de supprimer tout commentaire, photo ou contenu qui serait jugé contraire au bonnes moeurs, injurieux ou préjudiciable. La société organisatrice pourrait alors disqualifier le participant concerné sans préavis.
Le règlement est téléchargeable en PDF via ce lien. Le règlement est aussi librement consultable sur la page https://www.wattuneed.com/fr/content/54-concours pendant toute la durée du jeu et quelques jours après la fin de celui-ci.

Article 6 : Annulation / modification du jeu
La société organisatrice se réserve le droit d'annuler, de reporter, de prolonger ou de modifier partiellement ou entièrement le présent concours en cas de force majeure ou en cas de circonstances exceptionnelles indépendantes de sa volonté.
Article 7 : Responsabilité liée à l'utilisation d' Internet.
La société organisatrice mettra tout en oeuvre pour assurer la bonne réception des emails envoyés. Il est cependant rappelé qu'elle ne saurait être tenue pour responsable en cas d'un dysfonctionnement technique indépendant de sa volonté.
Il est aussi rappelé que Internet n'est pas un réseau sécurisé et que de ce fait la société ne pourra être tenue pour responsable d'un problème informatique que pourrait rencontrer les participants.
Article 8 : Protection des données personnelles
Les coordonnées des participants sont nécessaires à l'organisation du concours ainsi qu'à l'attribution des gains aux gagnants. Ces données seront exclusivement utilisées par la société organisatrice dans le cadre du concours et ne seront pas utilisées à d'autres fins sauf accord des participants.
Les photos, vidéos et textes partagées par les participants dans le cadre du concours deviennent la propriété de Wattuneed.
Article 9 : Responsabilité et Facebook

Facebook ne peut être considéré comme responsable en cas de problème lié à la participation au concours. Cette opération n'est ni organisée, ni parrainée par Facebook. Le participant au concours fournit des informations à l'organisateur du concours, et non à Facebook.
Article 10. Informations générales
Le concours est organisé par le site de vente en ligne Wattuneed.com appartenant la société Solar-Tech Engineering - 12 rue Henripré à 4821 Andrimont en Belgique.