Display all pictures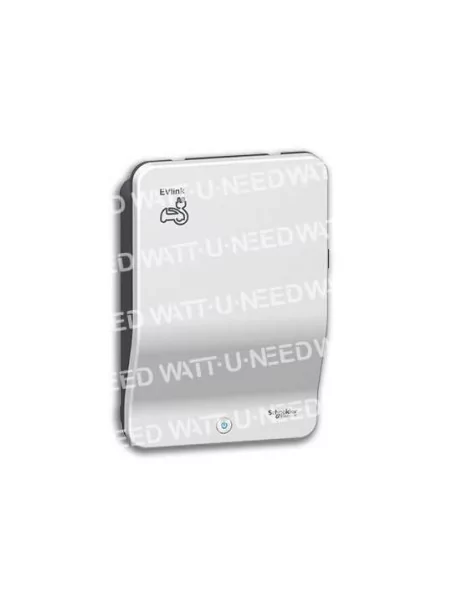 EVlink Wallbox G4 Smart - Wall charging station
Schneider Electric
More info
Electric vehicle charging station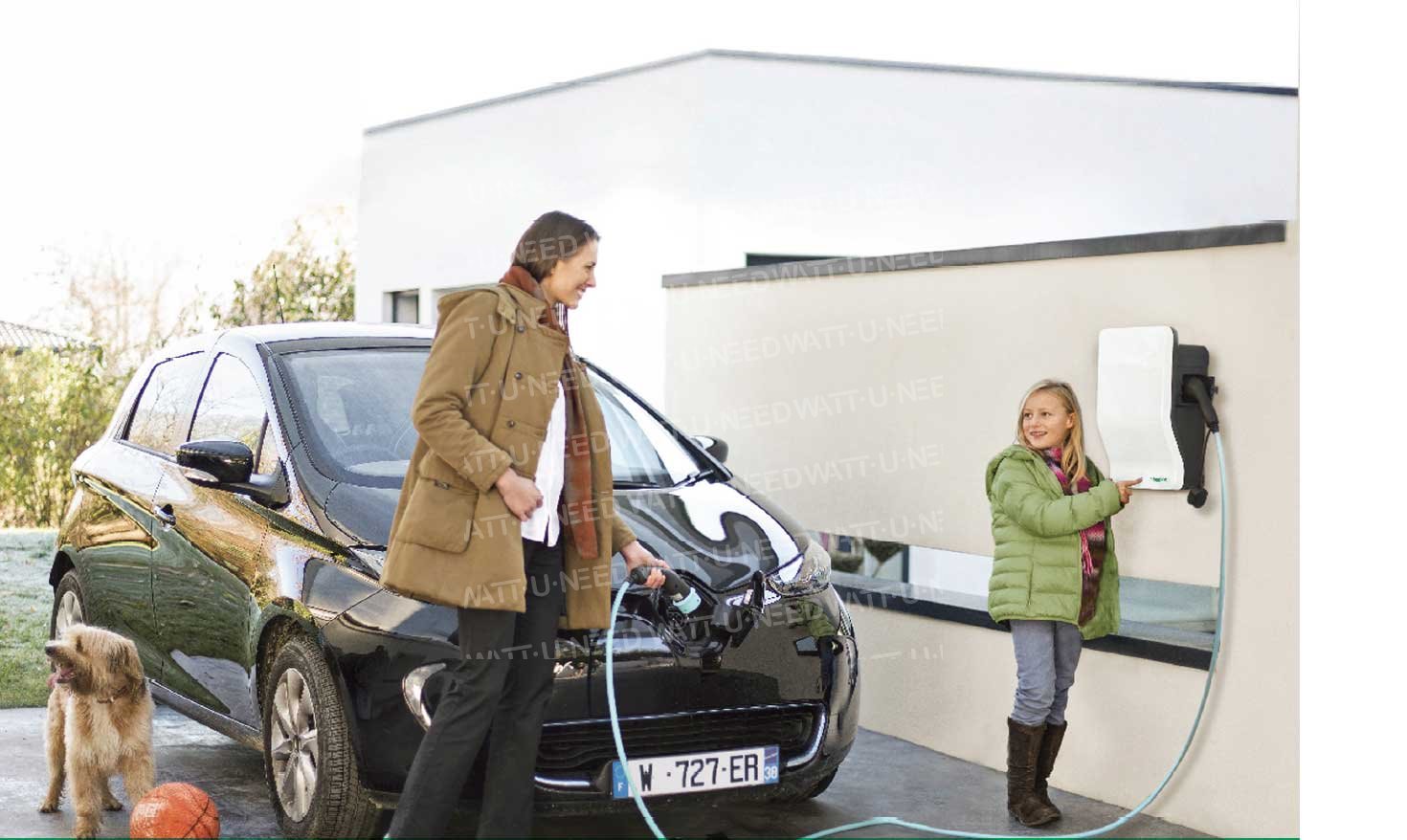 3.7 to 22 kW charging stations with protection against continuous fault currents (6mA DC) in domestic installations.
All versions of the Wallbox Plus terminal are equipped with a continuous fault current sensor (6 mA DC) capable of controlling the opening of the charging circuit in case of default.
Whether in a single-phase installation (3.7 kW and 7.4 kW) and/or three-phase (11 kW or 22 kW), the use of this 6mA DC current detection in the Wallbox Plus allows the use of a Type A residual current differential device instead of Type B on the terminal's power system.
---
Electrical features

Maximum charge current per phase: 16 A for 3.7 and 11 kW terminals, 32 A for terminals 7.4 and 22 kW
Continuous residual differential current detection device (DD-CDC). In the event that the European installation standard HD 60364-7-722:2016 is applied, a type A residual current differential device is suitable on the power system of the terminal in single-phase as in triphase
Land Link Scheme: TT, TN-S, TN-C-S, IT - may require the addition of an isolated transformer for the load of certain vehicles
---
Connections

- An all-or-nothing entry for the optional connection either to a contactor "off-peak hours or a clock, or to an offstor
- Power: up to 10 mm2 in soft cable and 16 mm2 in rigid cable
- Control circuit: up to 2.5 mm2
Physical characteristics
T2 socket or attached cable with T2 plug
Level of protection: IP 54, IK 10
Weight: 6.3 kg - Dimensions: 480 x 331.5 x 170 mm
Operating temperature: -30 to 50 degrees Fahrenheit
Colors: white RAL 9003 and grey RAL 7016
---
Operation

Automatic start of the charge as soon as the vehicle is connected
Option: Deferred departure/suspension of load, or temporary limit on maximum charge current
Push button to stop/restart the load, or to change the
How the terminal works
Seeing different colors to indicate the state of the terminal and the current charge
The use of the terminal and the charging cable can be locked.
The charging cable can be wrapped around the terminal while charging
---

Security
Grounding the vehicle during charging
Self-diagnosis of the terminal with automatic cut-off in case of default
Diagnosis of the vehicle's charging system with automatic cut-off in the event of a defect
Limiting the charge current depending on the caliber of the charging cable
---
Compliance
CIS/EN Standards 61851-1 Ed.2, 61851-22 Ed.1, 62196-1 Ed.2, 62196-2 Ed.1
Green Premium: RoHS, REACh, PEP, EoLI
Certification EV Ready 1.4 and ZE Ready 1.4
EC: tests carried out by an independent laboratory (LCIE)
---
Characteristics
Model

EVH3S3P02K

EVH3S7P02K
EVH3S11P02K
EVH3S22P02K
EVH3S3P0CK
EVH3S7P0CK
EVH3S11P0CK
EVH3S22P0CK
Range
Evlink
Product name
Evlink Wallbox Plus
Product or component type
Charging station
Short device name
EVH3
EVH3
EVH3
EVH3
EVH3
EVH3
EVH3
EVH3
Description of the poles
1P-N
1P-N
3P N
3P N
1P-N
1P-N
3P N
3P N
How to install
Wall fixation
Type of offer
INTEGRATED DRC-DD
INTEGRATED DRC-DD
INTEGRATED DRC-DD
INTEGRATED DRC-DD
INTEGRATED DRC-DD
INTEGRATED DRC-DD
INTEGRATED DRC-DD
INTEGRATED DRC-DD
Nominal output power
3.7 KW 16A
7.4 KW 32A
11th KW 16A
22 KW 32A
3.7 KW 16A
7.4 KW 32A
11th KW 16A
22 KW 32A
Number of takes
1
Exit type
T2 current take on the right side
T2 current take on the right side
T2 current take on the right side
T2 current take on the right side
Cable attached T2 right side 4m
Cable attached T2 right side 4m
Cable attached T2 right side 4m
Cable attached T2 right side 4m
Access control system
Key
Complementary
(Us) assigned power voltage
220...240V c.a. 50/60 Hz
220...240V c.a. 50/60 Hz

380...415 V c.a. 50/60 Hz

380...415 V c.a. 50/60 Hz

220...240V c.a. 50/60 Hz
220...240V c.a. 50/60 Hz
380...415V c.a. 50/60 Hz
380...415V c.a. 50/60 Hz
Grounding system
IT with the addition of an isolation transformer when certain vehicles need it, TT, TN-S
Number of entries
1,1
Types of entry
Contact for power limitation
Contact for deferred load
Digital for dynamic energy management to connect to French electronic electricity meters in single-phase
Type of command
1 white button, function: stop/reboot
1 green button, function: cable unlocking
1 white button, function: stop/reboot
1 green button, function: cable unlocking
1 white button, function: stop/reboot
1 green button, function: cable unlocking
1 white button, function: stop/reboot
1 green button, function: cable unlocking
1 white button, function; stop/reboot
1 white button, function; stop/reboot
1 white button, function; stop/reboot
1 white button, function; stop/reboot
Local signage
1 Multi-color bright light, function: state indications
1 Multi-color bright light, function: state indications
1 Multi-color bright light, function: state indications
1 Multi-color bright light, function: state indications
1 Multi-color bright light, function: state indications
1 Multi-color bright light, function: state indications
1 Multi-color bright light, function: state indications
1 Multi-color bright light, function: state indications
Height
480 mm
480 mm
480 mm
480 mm
480 mm
480 mm
480 mm
480 mm
Width
331.5mm
331.5mm
331.5mm
331.5mm
330mm
330mm
330mm
330mm
Depth
170 mm
170 mm
170 mm
170 mm
170 mm
170 mm
170 mm
170 mm
Product weight
5.7Kg
5.7Kg
5.7Kg
5.7Kg
7.6 kg
7.6 kg
7.6 kg
7.6 kg
Color
White (RAL 9003)
Grey (RAL 7016)
Standards
IEC 61851-1
IEC 61851-22
IEC 62196-1
IEC 62196-2
Product certifications
This
Cb
Environment
Degree of IP protection
IP54 compliant with IEC 60529
Degree of IK protection
IK10 compliant with IEC 62262
Operating temperature
-30...50oC
Room soaking for storage
-40...80oC
Relative humidity
5...95%
Environmental features
Environmental status of the offer
Green Premium product
RoHS EU Directive
Compliance, RoHS EU statement
Mercury-free
Yes
Information on RoHS exemptions
Yes
RoHS China Regulation
RoHS Statement for China
Environmental profile
Environmental profile of the product
Circularity profile
End-of-life information