Display all pictures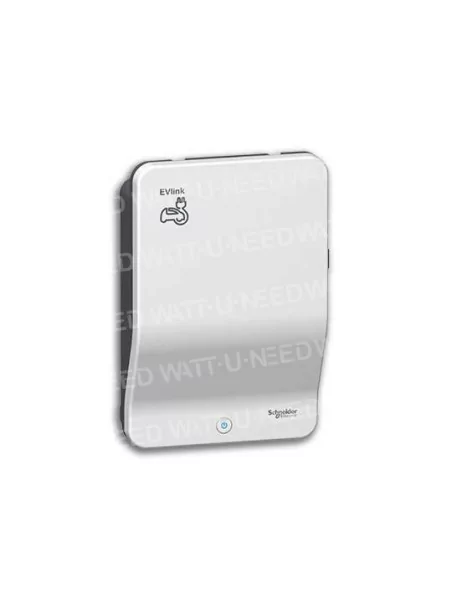 EVlink Wallbox G3 - Wall charging station
Schneider Electric
More info
Electric vehicle charging station
The safe and reliable solution for the rapid charging of electric vehicles

The new EVlink Wallbox charging station for wall mounting indoors or outdoors is ideal for secure and fast charging up to 22kW of any electric vehicle with two-way communication at home, in semi-public car parks and covered garages (apartment buildings, hotels, private companies, governments, etc.).
The charging station is quick to install and easy to use. It can be locked by a key, to avoid any use or control by others.
Delayed or controlled charging at reduced rates or reduced power times during heavy consumption (e.g., when charging multiple vehicles at the same time or using an electric stove at the same time) is possible thanks to the addition of a programmable timer, an external control and/or a load offloading device.
---
Safety and reliability

Unique concept of remote control ("MNx") of the power breaker for an immediate switch off of the terminal in the event of an accident or malfunction, e.g. the contactor
---
Flexibility

Modular and flexible concept with protective, measuring and control equipment outside the charging station
Compatible with energy management systems
Full range of products and solutions for all residential and commercial electro-mobility applications
Extensive portfolio of accessories, electrical components, energy management systems, etc.
---

Easy maintenance

No protective components in the charging station, so the simplicity and comfort of the maintenance work at the distribution panel level inside the building.
---
Experienced partner

Proven technology: 6 years of experience around the world in reliable charging and in different electric vehicle situations, in cooperation with several car manufacturers
Schneider Electric, a world leader in industrial electrical engineering, electrical power management and distribution with more than 175 years of experience
Global presence for the provision of equipment and exemplary service
---
Characteristics
Model
Wallbox G3 with socket
Wallbox G3 with cable
Entry
Number of phases-variants
1 (1P-N)/3 (3P-N)
1 (1P-N)/3 (3P-N)
Nominal voltage-variants
230V/400V
230V/400V
Nominal frequency
50/60Hz
50/60Hz
Maximum-variant input current
16A/32A
16A/32A
Grounding system
TT,TN(S) or TN (C)(S)
TT,TN(S) or TN (C)(S)
Maximum earth resistance.
100 Ω
100 Ω
Output
Number of load points
1
1
Power per charge-variant point
3.7 kW/7.4kW/11kW/22kW
3.7 kW/7.4kW/11kW/22kW
Pirse, type
Yes, Type 2, with automatic locking
Not
Take protection valve
Yes, Hermetic
N.a.
Cable attached-variants
N.a.
Yes, Type 1/ Type 2
Length of attached cable
N.a.
4m
Cable support
Yes, camera user
Yes, camera case
Equipment
Charge mode according to IEC 61851
3
3
Mnx breaker control
Yes
Yes
Automatic charge control
Yes
Yes
Manual load control
Yes
Yes
Power-variant reduction
Yes, 16A - 10A/32A - 16A
Yes, 16A - 10A/32A - 16A
Delayed charging control/"resume"/PV-ready function
Yes/Yes/Yes
Yes/Yes/Yes
LED controls
Load/lock status (1LED, 5 colors)
Load/lock status (1LED, 5 colors)
User interface
Start/Stop key, key, plug unlock
Start/Stop key, key
Identification
Yes, key to locking functions
Yes, key to locking functions
External communication port
- (in preparation)
- (in preparation)
General data
IEC 62262 IP Protection Class
IP54
IP54
Mechanical protection class according to IEC 62262
IK10
IK10
Boist material
Polycarbonate, UV-resistant
Polycarbonate, UV-resistant
Consumption on standby
6W
6W
Consumption when recharging
9W
9W
Product weight
Env.5.5 kg
About 6.5kg
Package weight included
Env.8kg
Env.9kg
Product Dimensions (HxLxP)
Env.480x330x170mm
Env.480x330x170mm
Package dimensions included (HxBxT)
About 532x398x255
About 532x398x255
Operating temperature range
-30C to 50C
-30C to 50C
Storage temperature range
-40C to 80C
-40C to 80C
Allowed relative humidity
0 to 93% (uncdened)
0 to 93% (uncdened)
Maximum altitude.
2000m
2000m
Warranty
2 years old
2 years old
Certifications
Standards and standards
CE, IEC 61851-1, IEC 61851-22, RoHS, REACH-SVHC, PEP Eco passport, EV Ready 1.4b
Data sheets and documentation