Display all pictures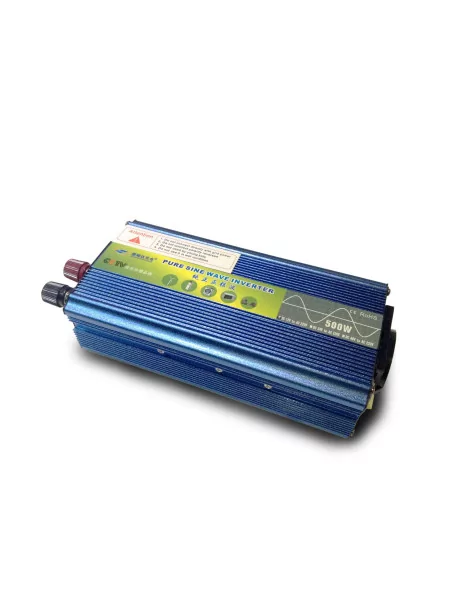 PSM 500 Inverter 12V - 500W
CCTV
More info
" Inverter PSM-500 with very low self consumption "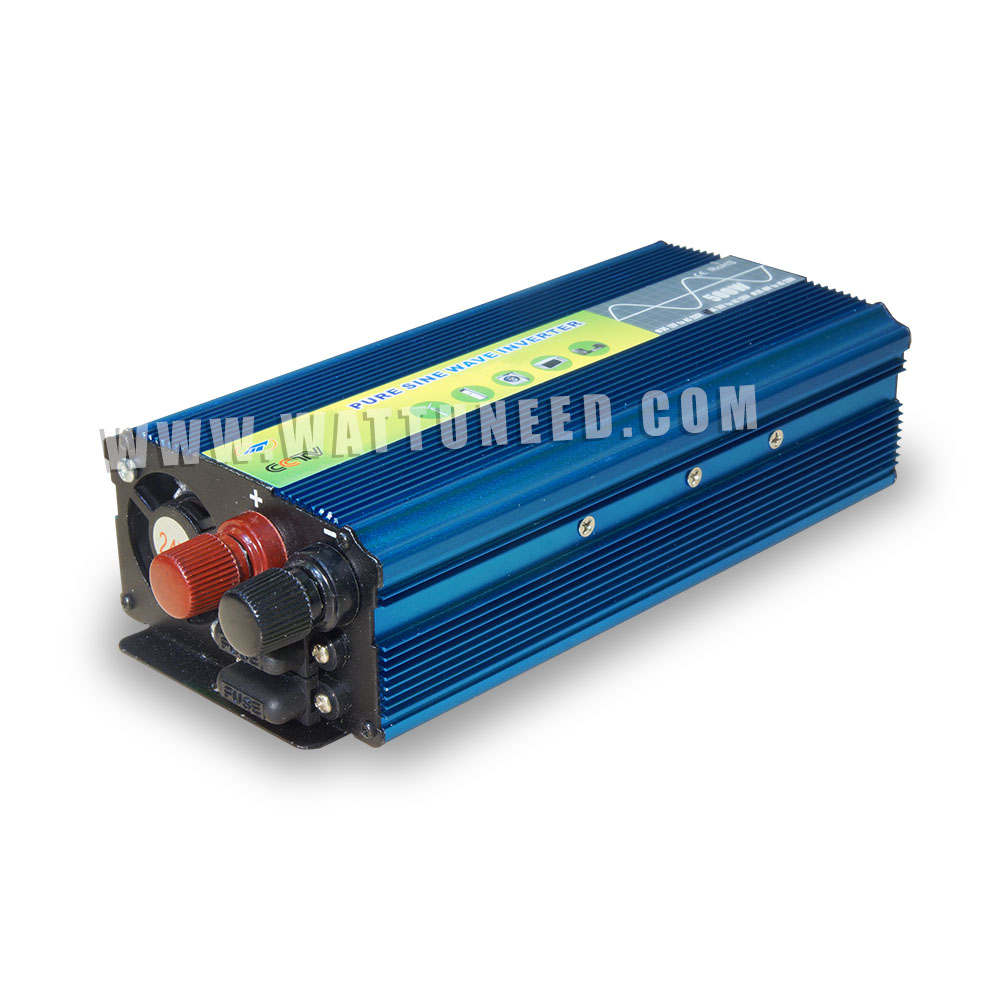 This 500W converter delivers excellent performances: efficiency of over 90%, very high peak power (1000W energy on requestwhen some electric devices start)
Perfect for sites where the inverter must remain constantly lit. The consumption is very low when nothing is connected to it.
Ideal for powering sensitive electronic equipment such as televisions, computers or any other electronic device.
The signal produced by Pure Sine devices is as good as the signal provided by a conventional electric distributor (eg EDF ) . These converters are compatible with all electric appliances

Description
Fully controlled by microprocessor

Protection against short circuits, over voltage, under voltage, temperature
Pure sine wave output 230V
Can supply all types of inductive loads
Multi-function: solar or home use
2 years warranty
Specifications
| | |
| --- | --- |
| | PSM-500 |
| Power | 500W |
| Peak power | 1000W |
| DC input voltage | 12V |
| Undervoltage cut | 15V |
| Yield | >90% |
| Dimensions (mm) | 200 x 100 x 54 |
| Weight | 1Kg |
Product Reviews
Number of Reviews : 21
Average Grade : 4.3 /5
T. Gérard
the 28/11/2018
1/5
J ai reçu ce produit mais il me semble pas l avoir commandé,ou alors par eŕeur. JE peux vous le retourner ?
A. G
the 11/10/2018
4/5
Un peut consommateurs pour mon système !
L. Patrick
the 05/05/2018
3/5
ventilateur bruyant des la mise en service
M. Daniel
the 13/04/2018
5/5
ok conforme à ma commande
M. Frédéric
the 23/08/2017
5/5
FOR MI. DABLE !
G. A
the 10/11/2016
5/5
parfait
K. Lucien
the 05/11/2016
5/5
Idem
G. Michel
the 27/10/2016
5/5
RAS - Matériel parfait -
T. Guy
the 06/10/2016
5/5
Produit efficace à bon prix.
W. Johnny
the 11/08/2016
4/5
Pas de sortie USB
D. Christian
the 06/04/2016
4/5
mais le ventilo un peut bruiant
M. Claude
the 11/03/2016
5/5
Produit conforme à mes attentes à un prix compétitif . Livraison rapide . Très bien
L. Daniel
the 22/01/2016
4/5
Pas mis en serviceOn parle d'USB sur l'emballage ???
P. Olivier
the 31/10/2015
5/5
Fonctionne bien produit conforme au prix.merci
K. Renan
the 28/11/2014
4/5
Sur le carton d'emballage, il parle d'une prise USB non présente sur le convertisseur. Idem pour le cable allume cigare, l'écrou de la borne est manquant également. Ceci n'est pas génant pour l'utilisation que je compte en faire, mais peut être un motif de retour.
C. Holper
the 18/10/2014
5/5
excellent achat il fonctionne deux heures par jours pour mon éclairage du jardin !
C. Saive
the 17/10/2014
4/5
Fait un peu trop de bruit
X. De Neuville
the 17/10/2014
5/5
très bon rapport quatité/prix
W. FABRE
the 17/10/2014
4/5
Bonjour tout le monde,Le convertisseur fonctionne correctement ; le seul problème est que son ventilateur de refroidissement se déclenche dès la mise en marche. J'aurais préféré payer un petit peu mais avoir un système de régulation par température (un thermostat par exemple)Cordialement de William de Nice.
A. Hoffmann
the 17/10/2014
5/5
Parfait
More reviews...
Specifications
| | |
| --- | --- |
| Voltage | 12V |
| Maximum PV input voltage | 12 V |
| Power | 500 VA |
| Inverter power | - de 1000VA |