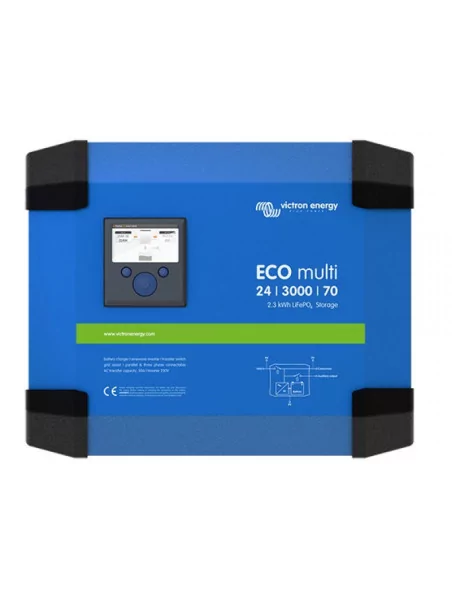 Victron ECOmulti 24/3000/70-50
Victron energy
More info
The ECOmulti is a simple self-consumption system.
This energy storage system is equipped with a 2.3 kWh battery and a 3000 W bidirectional converter.
Associated with solar energy, it is the ideal device to limit the reinjection on the network and serve as back-up in the event of a power failure.
The ECOmulti is a wall-mounted system with increased battery capacity.
One day with ECOmulti
Night During the night, ECOmulti is disconnected from the network. The house is powered by the energy stored in the battery. ECOmulti reconnects to the network when the battery is discharged.
The next day When the photovoltaic generator generates sufficient energy to power the loads and start charging the battery, ECOmulti will regulate the charging current to absorb almost 100% of the PV power of the excess.
When the PV output is reduced by clouds or when a large power consumption is supplied, Ecomulti derives the surplus PV power available, the charge of the battery stops. In the event of insufficient PV power, ECOmulti will supplement power by mains power supply (GridAssist function). Shutdown of the system due to overloading will be avoided.
Once the battery is ideally charged, the extra productions will be oriented (eg, the water heater can be switched on) or, the surplus electricity will be exported to the network, thus reducing your bill.
At the end of the day ECOmulti disconnects from the network about 10 minutes after the photovoltaic energy has become insufficient to provide a charging current. To avoid false disconnection - Due to lack of sunlight during the day, the inverter / charger also uses an internal clock to predict the end of the day.
UPS function: When the network (EDF, for example) breaks down, the ECOmulti will continue to power the house.

Warranty 5 years.
Data sheets and documentation